It's a true industrial scale production and launches both NTT DoCoMo and KDDI have unleashed 10-10 phones each in the market. Most companies will not that many models in years of being in business but then they are not Japanese.
From the DoCoMo stable we will see apart from the already discussed Sony Ericsson SO903iTV are NEC and Panasonic variants. These phones are of 703i series and are denoted by 'u'in the end. To name a few: N703iμ, P703iμ, D703i, F703i, N703iD, P703i, SH703i, and SO703i.
But from all these names the phone worth mentioning is D800i from Mitsubishi as it has two displays one screen and other touchscreen keypad. Just a passing thought after iPhone we are seeing many touchscreens in the mobile world.
The 'u' sets are said to be the world slimmest WCDMA phones at just 11.4mm thick.

KDDI line up: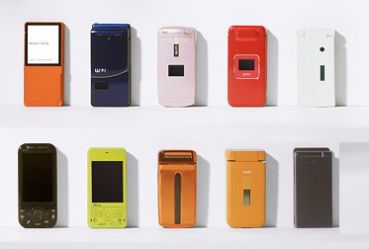 Now the DoCoMo rival 'KDDI' as not to be out done they have also thrown in 10 handsets titled "Collection 2007 Spring". Visit the site for more details. But the phones worth mentioning in these gamuts are 'Media skin' a cool looking candy bar with keypad covered.
And the other one is W51SH which is there to give competition to Sony Ericsson SO903iTV phone.
The features of the phone include CDMA EV-DO, 1seg TV tuner, EZ Felicia electronic wallet with 1.3-megapixel camera.
Via: Engadgetmobile