Built on the Symbian Anna technology, the Nokia X7 is a media centric cellphone that comes equipped with a 4-inch AMOLED touchscreen. You can enjoy the combination of Internet browsing, gaming, videos, music and much more with this smartphone. It also supports pinch to zoom function. Nokia X7 provides you with an enhanced web browsing experience. This is one of the latest high-end Nokia handsets which includes an 8 MP focus camera with dual LED flash. It also allows you to shoot 720p HD video. In addition to these, you can enjoy on-demand TV via WebTV and Bluetooth 3.0 services. However, it is a pretty expensive handset. So, now that it has your attention, does it deserve your money too? Let's find out.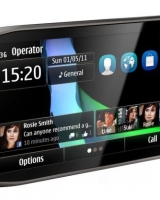 Performance
The call quality is quite solid, so you won't experience any disturbances as such. You can use loudspeaker even while on a call and there is no distortion. However, other performance parameters are not always smooth. This is mainly due to the slow Symbian OS. It does not support multitasking well. After the initial system boot, you need to wait for the widgets to load properly on the screen. You also have to wait a bit for the online applications like Ovi Store and Ovi Social to load properly. However, the scrolling in applications of Email, Calendar and Music Player runs well. The battery life is above average. Although it has a 1200mAh small battery, yet it can withstand regular phone activity for more than a day. The AMOLED capacitive touch screen is one of the key features. It provides a very bright display, which allows you to use the phone even in daylight.
Features
This is Nokia's first phone which is based on the Symbian Anna technology and is powered by a 680 MHz ARM 11 CPU and 256 MB RAM. It includes split screen QWERTY keyboard facility. The device supports tabbed browsing on its 640×360 display resolution, 4-inch screen. The twin loud speakers are a great asset. It includes an 8 MP camera with 2X digital zoom as well as dual LED flash. The internal memory is 350 MB and it supports an extended memory up to 32 GB. It is fashioned with three customizable home screens. You can roam around freely using the Nokia navigation maps and the OVI maps. It has the facility of a WebTV. The battery supports up to 6.5 hrs of talk time and 450 hrs of standby. The device supports 3G experience (HSDPA up to 10.2 Mbps; HSUPA up to 2.0 Mbps) and has an inbuilt FM Player and Music Player. It is a Wi-Fi enabled device and the Flick scrolling user interface is a blessing in disguise.
Design
Although the handset is not the slimmest of the phones available and weighs a good 146gm, its oval profile makes it comfortable to catch in the hand. The back is made of metal, which adds to its durability and solid look. However, it is not removable. The back also houses the 8MP Focus camera with dual LED flash. This camera is quite snappy and does not allow quality macro shots. The top of the device features a micro USB port, meant for charging. Nokia X7 also has a 3.5mm headset jack and the lock key. The speakers peek from the top of the sides. On the left, there is a lid protected micro SD card- and a SIM card-slot, which can be hot swapped.
Bottomline
Speaking design wise, the Nokia X7 has a futuristic appeal. This may, or may not, be well appreciated by all. The twin speakers at the top deliver quality sound effects and are pretty loud even without enabling the spatialization effects. Unfortunately, the OS of the phone lacks in appeal and performance when compared to the likes of Android and iOS. The Symbian Anna is the best among the Symbian platforms but it does not match up and has lost its popularity. It lacks the polish and qualities. The X7 will be a great choice for multimedia supported Smartphones. It provides great connectivity and free navigation applications. However, occasional slowdowns might disappoint you.