Nokia's Symbian Belle software-based smartphones were supposed to die out of market until recently. The speculations were aided by an announcement made by the Finnish company which said it would provide support for the Symbian devices only till 2016 and also by the recent introduction of Window-based Nokia Lumia 800 smartphone recently. However, there is still something about the Symbian Belle-based Nokia 701 that needs to be carefully examined. It was the third and the best of the three Symbian devices launched last year, if you believe in the experts opinion about this high-end phone. You would agree with me after reading this article that Nokia 701 is still something you can buy if your interest is often in something beyond the obvious.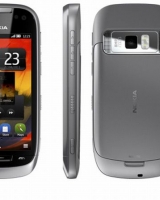 Performance
The performance of this phone is quiet impressive. It is a quad-band GSM phone which also provides connectivity option through WiFi and with 3G networks through HSDPA. Besides, Nokia's web browser works efficiently and allows for tabbed browsing also. 
Features
Nokia 701 happens to be first of its kind device featuring a 1GHz processor made by the Finnish company. There is also a 512 MB RAM for ensuring speed. If you care about the brightest display in your mobile phone, the 701 comes with a 1000 nits of brightness of a 3.5-inch touchscreen display. It works efficiently with all apps and games. The notification tray system is very much like the one offered in Android phones. Besides, there is also a high resolution 8-mega pixel camera with dual LED flash. 
Design
In terms of design, the Nokia 701 resembles Nokia C7. I hope that the latter must have impressed you with its classy appearance. The designers have very efficiently applied metal on the back of the phone and polycarbonate plastic in the front. They have also kept Nokia's trademark rounded edges. The sleek phone weighs 131 grams only and measures 117.2 x 56.8 x 11 mm. It is available in three different shades of silver light, steel dark and amethyst violet. 
While top of the phone is crowded with a head phone jack, power button and a microUSB slot, the left side features only a charger jack. The volume rocker buttons separated by voice command key is placed on the right. There is also a lock slider and the camera button on the right. The bottom of the phone consists of lanyard eyelet. 
Bottomline
Nokia 701 is an impressive mid-range option if you are looking for a high-end smartphone for Rs 16,000-17,000. The Symbian system put it in an exclusive club as compared to the more famous Android phones and Nokia's own Windows-based phone launched recently. The smartphone is aided by a first of its kind functional Near field Communication chip. It also features a new notification drawer which provides toggle switches when you try to turn the phone into silent mode, for mobile data and Bluetooth. Apart from a few issues related with camera and video players, it is still a feature-rich smartphone available at a reasonable price. The choice should be finally yours.