Nokia has been quite triumphant with the launch of its X2-01 mobile phone, a few quarters ago. The freakish device is packed with some of the mind-boggling features that never lets the users get bored. The availability of this model at an affordable price delights the viewers with surprises and arises their curiosity. As the device is designed with a Qwerty keypad, typing texts on a mobile phone could no longer be a strenuous issue. X2-01 offers an one-touch access to its music player, thus brings a wholesome entertainment instantly. Nokia's exceptional design and positioning of the key elements rightly makes this device much more convincing and easy to use.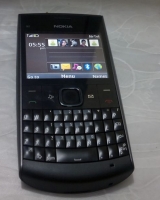 Performance
Equipped with 0.3 Megapixels VGA camera, the quality of images and videos aren't exceptional, but they are fairly agreeable. Its call handling functions are just convincing. The performance of the battery is phenomenal; yet, it doesn't lasts for several days on the standby mode as claimed. The clarity of loudspeaker is quite amazing; however, quality of the default headset disappoints the users because of its low volume and absence of noise reduction facilities. Typing text is quite comfortable with its Qwerty keypad. Instant browsing adds value to this device.
Features
Nokia X2-01 possesses a 2.4 inches TFT display screen that is made vivid by 256K colors. The device features a Qwerty keypad that doesn't hardens the typing process. It supports polyphonic and mp3 ringtones as well. Obsessed with an internal memory capacity of 55MB, the device supports an expandable memory up to 16GB. It is compatible with GPRS, Edge and Blue-tooth technology. X2-01 has a VGA camera that could record images of the resolution 640×480 pixels and videos at 24 fps. One could also enjoy a stereo FM radio with it. Offering a handful of messaging services like SMS, MMS, email, etc., this device supports several browsers including WAP 2.0 and Opera Mini. Designed to work on the Symbian S40 OS, this mobile is compatible with GSM frequency bands on the 2G network. Not the least, Nokia X2-01 has a BL-5C Lithium-Ion battery. The manufacturer claims that it could literally last for about 20 days on the standby mode and has a talk time of 4.5 hours.
Design
The solid structure of Nokia X2-01 makes it look heavy. Surprisingly, it weighs just 107.5 grams owing to the use of high strength plastic materials. The device measures 119.4 x 59.8 x 14.3 mm as in the format of length x width x thickness. Belonging to the solid bar category, this device possesses a sleek design which makes it handy and comfortable to hold as well. X2-01 is ergonomically designed to offer a leisurely typing experience with its entry level Qwerty keypad. The dedicated push mail and music player keys deserve a special mention here, as they bring the joy of email and audio entertainment instantly. 
On the rear side of the mobile, one can identify a VGA camera that could record pretty appreciable images and videos. Parallel to the camera, a definite loudspeaker is available. On the upper side of the device, a standard 3.5mm audio jack is present. Adjacent to it, a standard charging port takes the position. On the left side, a micro-USB slot and a memory card slot are available. The surprising fact is that this device supports USB charging as well. Below the display screen, a four way D-pad is present which allows users to navigate between various menus. It features a center selection button also. The shortcut keys to the music player and the email are available on the left and right side of the D-pad respectively.