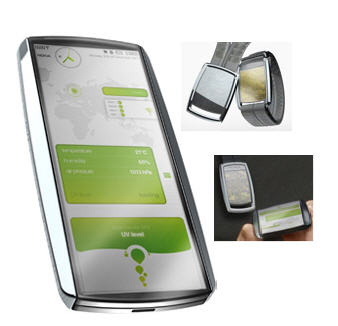 After working on methods to adapt cameras, radios, games and computers to the cell phone, Nokia is now working on adding new environmental friendly gadgets to the mobile phone. Last week the first environment friendly Nokia 3110. Evolve was introduced. This week Nokia is releasing the mobile phone with the futuristic Nokia Eco Sensor Concept.
The new mobile phone will have a number of optional sensors to monitor environment, health and local weather conditions. The sensors will be powered by solar cells. The device will be made from environmental friendly materials like printed electronics, bio-materials and reclaimed materials.

Now your Nokia phone will be handy to know about the weather condition of your city and it will warn you about the amount of polluting particles in the air that you might inhale.
Source: unwired view