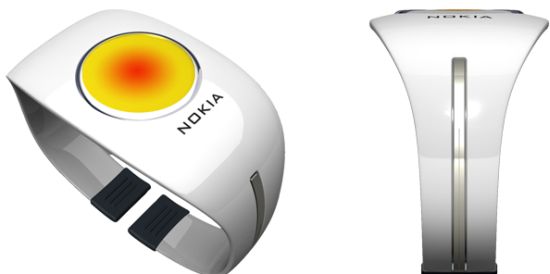 Designer: Hugo Danti
Hugo Danti is the designer who won the Nokia Open cell-phone concept competition last year with his fan-like phone with scrollable, flexible screen. This time it appears, he has got a stylish accessory to complement the handset. The Nokia Open Bracelet comes with a small display that shows an incoming call with a color-coded message. While hot colors could show the calls from near and dear ones, the cold colors could be used for strangers. Moreover, the digital display can even reproduce images, which you can transfer from your handset via bluetooth. This digital display could also work as a normal digital clock. This is not just another phone accessory, but you can even use it as a stylish fashion accessory as it is festooned with a silver element on the sides.
About the Designer: Based in Spain, Hugo Danti is a motivated designer, licensed in Industrial Design and proficient in 3d-modeling and rendering techniques. He is looking forward to working on a design team in a multidisciplinary environment.
Via: Concept-Phones