Nokia N950 is a smart handset that runs on Nokia's Linux-based proprietary firmware, the MeeGo OS. The device comes equipped with a QWERTY keypad, large touch display and robust multimedia features. In some aspects, the N950 resembles Nokia's flagship MeeGo handset, the N9. Well, except for the QWERTY keypad, aluminum body and a few other features, the N950 is almost the replica of N9. This MeeGo phone from the Finnish firm is an apt pick for customers, who look for a smartphone, other than an iPhone or an Android phone.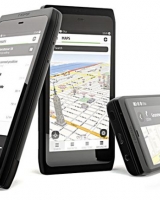 Performance
Nokia has outfitted the N950 with a 1GHz Cortex-A8 TI OMAP 3630 processor and 1GB of RAM. The handset draws its graphical power from PowerVR SGX530 chip. The handset runs on MeeGo 1.2 Harmattan OS, the new version of Nokia's open source mobile OS. For storage, the N950 mounts an 8.5GB of internal memory. Disappointingly, the handset skips a microSD slot for memory expansion.
Features
The Nokia N950 rocks a 4-inch TFT LCD display. It features a resolution of 480 x 854 pixels at 245 ppi. Alongside the touch display, the device has a full QWERTY slide-out keypad. This combination of touch and physical inputs really makes the N950 a unique handset out in stores. This attribute makes it different from its forerunner N9 and other rival handsets. Many customers still love physical keypads on handsets.
The N950 is a champion in wide-ranging connectivity features. The handset brags Wi-Fi 802.11 b/g/n, HSDPA (14.4 Mbps) and HSUPA (5.76 Mbps) as major options for network connectivity. In addition, it has GPRS, EDGE, Bluetooth 2.1, a microUSB 2 port and much more. According to analysts, the device's wireless data communication is just outstanding. The phone may lack an FM radio, but Nokia has augmented it with high quality music player, which supports multiple formats.
Web browsing is also a smooth experience on the gadget. HTML, xHTML and WAP2.0 web browsers make surfing a faster and stable experience. Thanks to 4G network connectivity, downloading and streaming contents are possible at blazing speeds. Added with an internal A-GPS receiver, SNS integration, push email and better IM chat options, it is an unrivaled Nokia handset out there.
When it comes to camera, a massive 12-megapixel rear camera rests on the N950. The camera is up with 4000 x 3000 pixels sensor, dual-LED flash and autofocus. Moreover, it features geo-tagging, face detection and touch focus. But, sadly, there is no secondary camera, meaning that video chatting is not possible. 
Design
Nokia N950 has an exceptional design. Obviously, it has a far-off similarity with N9 in design as well. However, some modifications are there as it has a QWERTY keypad and a slightly larger display. Besides, it packs in a 1320mAh battery and its camera has a different position. Anyway, the phone is not bigger and heavier so users could comfortably carry it in their pockets on the move.
Bottomline
Nokia N950 is a highly competent handset because it merges all essential features required. It is a perfect phone for different types of customers. Photography enthusiasts have a better camera, music lovers have seamless options for music, internet users can enjoy unequaled web speed and gamers can stick to their favorite titles on the handset. Sporting a physical keypad, entrepreneurs will certainly love the gadget. The N950 is affordable for all.