Nokia N8 phone is a touch screen smartphone running on new Symbian platform. The phone has an astonishing 12 MP camera which holds its own among most camera phones. You can record videos at 720p using Nokia N8. Aided by a big 3.5-inch capacitive AMOLED display, the phone design looks very inviting. On the reverse side of phone, you'll find a Carl Zeiss lens, a Xenon flash and a loudspeaker. The phone is scratchproof and has a full metal enclosure. It also comes equipped with a mini HD port to play video through HDTV. The phone also has the revolutionary Corning Gorilla Glass for more clarity and better touch control. Nokia N8 also has a 16 GB of internal memory.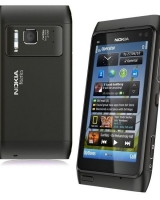 Performance
Nokia N8 is equipped with 680MHz ARM 11 processor which does the job pretty well. You might experience a little decline in the speed while using Internet. The voice call quality is incredible and audible in busy surroundings. Call quality is above most of the smartphones. The phone has a 1200mAh battery under the hood, which is a big improvement with 12 hours of talk time and 390 hours of standby.
Features
This phone has 3.5 inches, 640×360 pixels widescreen capacitive touch display. The 12 MP camera works with a Xenon flash and it touts the camera lens, which is made by lens manufacturing pioneers Carl Zeiss. This phone has GPS which is supported by Nokia maps. The best part of the phone is anodized aluminum enclosure which looks and feels great.
Design
The phone has been given an altogether new feel with an anodized aluminum body. Nokia N8 really feels great in hands and you would instantly fall in love with the phone. The top and toe of the phone don't have aluminum covering, instead there is shinny plastic cover. On the fascia, there are front camera, screen, light sensors and menu button. The screen is just fantastic with great pixel density and vivacious colors. The whole design is flat and clean with exception where the camera and flash is situated. Still it looks solid and can be counted as one of the best designs.
Bottomline
We can easily conclude that this is a power packed phone. It has a great camera quality, video playback and most of all a great build quality. The Symbian OS on the contrary is less inviting and looks a little dull. So the hardware of the phone is above the notch but the software is a little lacking. With a little improvement on the interface this phone could be the ultimate multimedia smartphone.