The slide-to-open Nokia E66 is a sophisticated smartphone that caters to the needs of both business and entertainment. It has a sleek design, somewhat similar to its ancestral model E65, and is loaded with some powerful business oriented features such as office suite and exchange server support. Its rugged keypad along with the support of shortcut keys, feels nothing like the congested and diminutive keys of the Blackberry business phones. Though people have gradually moved on to using expensive touch screens, but for those who still like sleek business phones with a slider keypad, the Nokia E66 will cost much less. Let's get to the phone's features and performance to explore it inside out.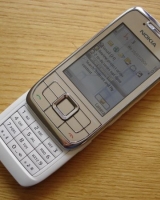 Performance
The Nokia E66 manages to live up to expectations, with its great productivity features. The phone's scheduling and navigation features are top-notch. In addition, the Exchange ActiveSync support is of great use. The phone runs Symbian 9.2 OS and is not ultra-fast, but does not take much time for loading applications either. The display screen supports 16 million colors and works well in broad daylight. The web browser used in Nokia phones is still among the best available in the market. Although, it's not a multimedia phone, the E66 still has a quick-access and impressive media player, along with other media apps. The accelerometer feature further adds to the quality of its interface orientation.
Features
The Nokia E66, where "E" represents business, is loaded with some very useful and professional business features. To start with, new users can transfer their contacts and emails by configuring it with Outlook or other exchange email servers with minimum hassle. The VPN support allows professionals to access their office intranet, and use device lock and wipe function to secure their sensitive data. The calendar app is useful for organizing and scheduling appointments. The phone comes pre-loaded with Office suite, which enables reading and creating documents including Word files and presentations. Standard features include a 3.2 megapixel camera with auto focus and LED flash, 3G, Wi-Fi, HSDPA, Bluetooth 2.0 and A-GPS support, FM radio, efficient shortcut keys, USB 2.0 mini-port, infrared, accelerometer sensor, and micro SD memory expansion up to 8GB.
Design
The Nokia E66 is a tough one; it has a stainless steel casing, a solid slider, and rugged keypad, leaving no margin for error in built quality. The keys are soft, a convenience with most Nokia phones which makes them preferable for frequent messaging. Dimensions are 107.5 x 49.5 x 13.6 mm, and it weighs 121g. The phone isn't heavy to carry, but just heavy enough to make it feel solid. Nokia E66 is neither small, nor too wide with a 2.4″ QVGA resolution screen, four shortcut keys and a slider keypad, which easily fits in your pocket. All in all, it's a good-looking and a solidly built phone.
Bottomline
The Nokia E66 is great in design and built quality. Improvements from its predecessor are apparent and quite impressive. Symbian along with excellent productivity features makes it a good choice for business and personal use. Most slider phones lack ruggedness, but it's not the case with the E66; the phone's solid built seems like it can take a lot of beating. Overall, it's a quality smartphone for working professionals who rely more on their phones for business, and less for photography gigs and entertainment.