Nokia launched its E-series phones for the business-oriented users, who might not be looking for that much fun, but need a simple intuitive interface with a set of important applications that help them accomplish their task. There is a reason to why Nokia has been so successful in certain markets and every now and then they are able to tweak their products to give their customers what exactly they want and that too at a reasonable price. It was Nokia E71, which championed this niche and became one of the most popular Nokia phones. Now, Nokia E63 is based on E71 with some scaled down features to bring down the price, but in no way does it looks inferior and offers a wide range of functions that will meet most of your business needs.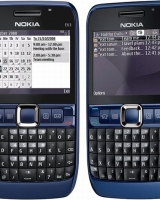 Performance
E63's platform is Symbian S60 Feature Pack 1, which gives it a stable and snappy interface. Since, it's a business phone and it's important for its users to keep track of the latest mails and messages they get, E63's home screen has made way for "speech bubbles". Another impressive feature is that as soon as you start typing a number, it gives a list of contacts that correspond to the number just like Google Instant.
Features
Applications
E63 supports a number of enterprise applications such as QuickOffice and Active Notes. It supports features such as push-email, PIM syncing and VoIP, which make it a serious option for those who are looking for a phone that meets their business needs.
Battery
E63 boards Nokia's powerful 1500 mAh battery that ensures that your device lasts a day even if you're using 3G and playing games on your device.
Camera
Its 2 megapixel camera does no wonders and produces average quality images. Unlike E71 it doesn't have auto-focus.
Connectivity
The Quad band GSM handset supports GPRS, EDGE and 3G. It supports Bluetooth v2.0, Wi-Fi 802.11 b/g and USB 2.0 to get connected to your PC/Laptop. However, it lacks GPS, which is also surprising as it is now available in most of the Nokia phones.
Besides these features, Nokia E63 sports a 3.5mm audio jack that would help you plug in your headphones to it and a 120 MB of internal memory that can be extended with a microSD up to 8 GB.
Design
In contrast to its touchscreen counterparts, E63 is a tablet-shaped phone with half of the body occupied by the QWERTY keyboard and the rest by the 2.4-inch display. Its 320-by-240-pixel QVGA screen performs better than its predecessors do and, you would not just go blind in case you are looking at it in a bright sunlight. It feels great in the hand inheriting the robustness from its design. The QWERTY keyboard has the domed keys that will help in reducing you effort, while you're in a hurry to send an important message. Where it differs from E71 is a smaller space-bar making way for two Ctrl and Chr shortcut keys. Quite surprisingly, it doesn't have dedicated volume and power buttons. You'll have to go to your d-pad to adjust the volume the power button is same as call end button. This aspect of E63's design doesn't impress us and might become a hassle to its users.
Bottomline
E63 doesn't cater to the geeky crowd, who need all the functions and like to tinker with their devices, but rather people who need a standard set of functions that work like a charm and improve their productivity. In the light of this truth we feel that its lack of good quality camera and GPS will not hinder its sales to its targeted audience. At a budget price, it is one of the best QWERTY phones in the market.