Finnish handset maker Nokia recently announced its new name-giving policy, under which it was decided that all handsets manufactured by the company will come with a designation number from 1 to 9. The 1s will signify the handsets equipped with basic functionality, while the technologically advanced models will be denoted by number 9. The new Nokia C5 also comes under this policy. The new handset runs Symbian S60 3rd Edition OS. The look of this handset is sleek and advance. Though the handset features some metal parts, it is not very heavy.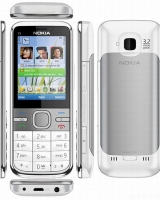 Performance
Nokia has used its range of mobile services in this phone to make it a perfect device for people who want to remain in touch with the world while on the go. The C5 allows its users to access favorite contacts on home screen of the device directly. As the phone comes equipped with a 3.2 megapixel camera and an in-box 2GB memory card to store your data, you can effortlessly upload the stored data to online communities for an outstanding sharing experience. You can also view the Facebook status updates from the phonebook. The users can also get connected to Facebook and MySpace quickly. The presence of Nokia Messaging helps the user to access instant messaging and email accounts from Ovi Mail and other email providers.
Features
The Nokia C5 supports both 2G and 3G network. Weighing just 89.3 grams, the dimensions of this phone read 112 x 46 x 12.3 mm. The 2.2-inch TFT display screen features 16 million colors. The phone features both a loudspeaker and 3.5mm jack. The internal memory of this phone is 50MB but the memory can be expanded up to 16GB using MicroSD card. The phone does not support WLAN, but supports Bluetooth. The 3.15 MP primary camera comes loaded with LED flash and capture good quality video. The secondary VGA camera is perfect for video calling. The Li-Ion 1050mAh (BL-5CT) battery of this phone has a standby capacity of up to 630 h in 2G mode and up to 670 h in 3G mode. The talk time in 2G mode is up to 12h and, in 3G mode, it is up to 5h. The phone features a microUSB port and Stereo FM radio with RDS. Popular apps like Facebook, YouTube, hi5, Friendster, MySpace are pre-installed on this phone. The phone can be used to send SMS, AMS, MMS, Email, Push Email, IM and RSS.
Design
The Nokia C5 has been designed keeping in view the needs of the people who are very much interested in using their handset for social networking and sharing.  The look of this phone is simple yet attractive. Nokia is renowned for designing nice-looking phone and the company has lived up to its reputation with this handset. The use of metal on the outer part of the phone makes it more reliable and sturdy.
Bottomline
Priced at around INR 7,500, the Nokia C5 targets those middle class people who are interested in using simple and user-friendly phone. The phone is not complex at all, making it a perfect choice for those who want to use a moderately priced phone loaded with necessary modern features. This phone is set to find many takers because despite its low price, it is loaded with several modern and advanced features. The look of this phone and its overall weight are also going to work in its favor. Though the primary camera of this phone is only of 3.1 MP, it is good enough to click good quality pictures. The backup of the battery is quite impressive, which will definitely attract those who prefer phones with good battery life. The C5 is set to attract young people too because they can use this phone for their social networking activities.