Every major company has aimed at making touchscreen phones affordable at one point of time or other. Touchscreen phone sales have already overshadowed keypad phones and, new and cheap models are coming out every other day. The question now stands that which company will provide the better phone for the same price. The Nokia C5-03 is cheap imitation of the C6-01 in terms of looks. Touted as the offspring of the Nokia 5800 XpressMusic, it may as well be the last "Yay!!!" for the S60 OS. However, on the price for feature scale, the C5-03 soars. The best part about the C5-03 is that it is almost completely recyclable, making it the only eco-friendly touchscreen phone in the market. The phone supports HSPDA and HSUPA for high-speed connectivity and Nokia provides voice navigation through Ovi maps completely free of charge (that's right! No data charges!)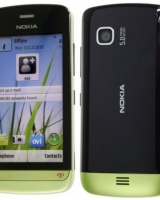 Performance
For the price tag, the phone has exceptional hardware. It has high-speed connectivity with HSUPA up to 2Mbps and HSPDA up to 10.2Mbps. The CPU clocks at 600 Mhz which makes running the old S60 seem like a walk in the park. The C5-03 has a talktime of 12 hours and a standby time of 600 hours.
Features
The C5-03 is not anything out of the ordinary. It has the normal applications that come bundled with the native S60 OS. The phone features a 600 MHz ARM 11 CPU which is more than capable of running the S60 v9.4, but it's akin to powering a sewing machine with a car engine. The media player is quite good and supports all popular audio and video formats except DivX. The camera is a 5MP fixed-focus variant that also supports VGA video recording at 15fps. It has Class 32 GPRS and EDGE and also Wi-Fi 802.11 b/g, with UPnP technology. The browser has HTML and, surprisingly, Adobe Flash support as well.
Design
The body is glossy and will soon turn dull if not taken care of. The body is a lodestone for scratches and attracts fingerprints as well. Nokia probably intended this phone for a young audience and hence splayed the body with vibrant colors. There is no proximity sensor, so the phone locks during a call. Behind the phone are the usual suspects: the camera (slightly pushed in to avoid damage) and the loudspeaker. The phone is exceptionally light. The screen is a resistive 3.2" TFT that disappoints as it has bad viewing angles and unusable in direct sunlight.
Bottomline
The Nokia C5-03 is great value for money with a whole connectivity set and free navigation. Soon you will yearn for a better screen, a better camera and a better touch response. In that case, the C6-01 or the C7 should be your next choice. Overall, at this price range, you will like the feel of Nokia C5-03. The Nokia C5-03 is improved in terms of design than the 5800 XpressMusic, which it follows. The vibrant colors will definitely appeal to the younger generation. Symbian S60 is not the best first touchscreen but a phone with this feature set is definitely worth the steal.