Nokia C3 is one of the latest phone models by the Finnish mobile phone manufacturer Nokia. With this phone, typing will be a very easy job as it has a fully-fledged QWERTY keyboard. With the design's primary focus on the thinness, Nokia C3 is designed to be used mainly for instant messaging and social messaging. Apart from features and options that help you connect with your friends through social websites, Nokia C3 also gives you an additional feature of connecting to the Internet through Wi-Fi. You can also take snaps of memorable moments through the 2MP camera. Nokia C3 supports microSD cards up to 8 GB of storage.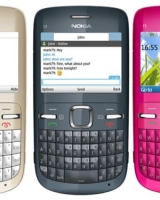 Performance
Getting comfortable with Nokia C3 takes no time. In fact, even the users which are new to QWERTY keyboard will be able to get the hang of it very easily. You will be able to quickly type in the messages and if you love to gossip through social media like Facebook or twitter, then it will be even better suited for you. Having an audio conversation with Nokia C3 will be equally easy as the ear speaker is of fine quality and you will have a crystal clear conversation.
There is no support for 3G but the phone indeed supports Wi-Fi. So, in case you often visit cafes which have free WI-Fi service, you would love to have a cyber chat with your friends while having a cup of coffee there. However, there is one annoying aspect of connecting to Internet through the C3. This is, when you want to connect to the Internet then it asks your permission and after that, it also asks you to choose the connection profile, every single time! Nokia insists that this feature is to protect the users from cyber crimes.
The RAM memory of the phone is 64 MB and that of the ROM is 128 MB. This much of RAM memory is enough to run most of the games and applications without glitches and long loading times. The internal storage memory, however, is 64 MB which is somewhat less and when installing heavy apps it could create problems.
Features
Since Nokia C3 is basically designed for those who love to cyber chat, so you can expect a number of features and options for instant messaging, social networking and other types of communication tools. The phone supports multiple Email accounts, home screen social website widget, twitter plus Facebook clients. Moreover, for instant messaging, there are Yahoo and Windows Live clients.
Nokia C3 supports push mail, which is one of the fastest ways of getting through mails today. You will also get a number of apps preinstalled in the phone, which makes use of social network integration. Most of these apps are there for connecting to your social accounts and managing your messages etc. Since it supports the 3.5 mm audio jack, you could connect it to your stereo very easily. You will get a 2GB microSD card included in the package which is quite good to start with when talking about storage. Also, Nokia C3 supports flash files so browsing through Internet will be even better experience.
Design
Nokia C3 is very slim and sleek and is probably one of the best models manufactured by Nokia under the S40 platform. The thing which makes it stand out from rest of the s40 models is its QWERTY keyboard. The audio jack it supports is of 3.5 mm pin, and there is also support for USB connection.
Bottomline
With a 8GB microSD card support, WI-Fi support and a 2MP camera, the Nokia C3 phone is a good choice for those who are addicted to social Internet clients like Facebook, Twitter etc. The body is slim which makes it easy to slip in the phone in even tight jeans. Overall, the phone could be easily said to be one of the best ones with the QWERTY keypad.