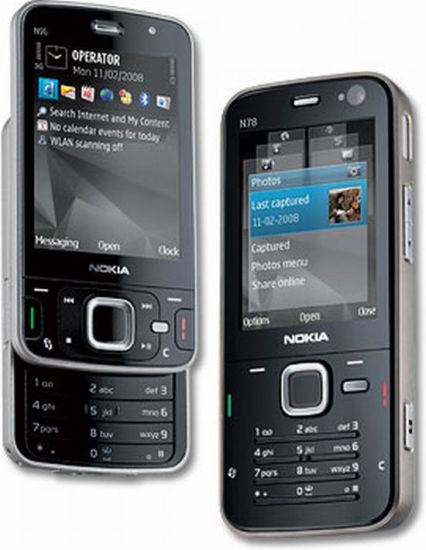 Nokia has arrived with two updated versions of its high-end Nseries phones – N96 and N78. While N96 is an updated version of the N95, N78 is the improved version of N73.
Both the mobile phones while sharing a number of features differ on a number of fronts. The common features are –
• Quad-band GSM/EDGE phones
• QVGA displays
• Wi-Fi
• GPS
• stereo Bluetooth 2.0
• EDR
• microslots with 8GB internal memory
• 3.5 mm headset connectors.
N96 is a slider phone while N78 is a bar style one. Though both the phones have auto-focus camera with Carl Zeiss lens, N96 has a 5MP camera whereas the N78 has a 3.2 MP camera. The multimedia keys of the D-pad in N96 disappear when the phone is not in use. In the N78 phone, the number keys disappear when the phone is in camera mode. The DVB-H mobile TV with European network makes N96 compliant for the European market while the N78 supporting 3G networks is aimed at the North American market
Source: PhoneScoop