Nokia 7230 is an entry level 3G slider handset from the Finnish firm. It was unveiled in early 2010 with the S40 6th edition user interface running on it. Even being a basic model, Nokia 7230 highlights a decent 3.2-megapixel rear camera and other features. Nokia aims this affordable phone at teenagers. The gadget touts a 2.4-inch vertical display with the support of 262K colors. It is a slider handset that means once folded, it is a small and handy device and will slip into your shirt or trouser pockets with ease. Here is everything you should know about Nokia 7230.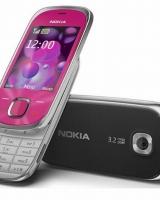 Performance
The Nokia handset performs pretty well. It has better processing speed and enough memory capacity. It advances with an onboard memory of 4GB, plus a microSD slot that can support external memory cards up to 16GB capacity. Nokia sells the device with a 2GB free memory card. The phonebook of the device stores 2000 contacts. There is an option to make Photocalls and the device keeps 20 dialed, 20 received and 20 missed calls in the call log.
Features
Everyone may not require a HD resolution and large display. The 7230 handset sports a 2.4-inch display with a decent resolution. With 240 x 320 pixels at 167 ppi, the gadget is a nice pick for average customers. The display is good for moderate Internet use as well. It is just the right gadget for those who require a quick check of e-mails or social media updates. The S40 user interface also offers a nice experience for users. The home screen is moderately customizable keeping essential items like time, carrier's name, signal strength, battery status, profile, date and others.
The Nokia phone comes with sufficient connectivity options as well. To begin with, the 7230 is a 3G handset and works on UMTS 900/2100/1900 3G networks. Moreover, it features GPRS (Class 32, 100 kbps) and EDGE (Class 32, 296 Kbits). There is no Wi-Fi, but it has Bluetooth 2.1 with A2DP and microUSB 2.0. Web surfing is a pleasant experience on the Nokia phone thanks to WAP 2.0, HTML and xHTML web browser along with Adobe Flash Lite support. Integration of stereo FM radio, MIDP 2.1 Java and Flickr/Ovi makes it a well-heeled basic handset.
To top it all, there are Nokia Maps, Nokia Life Tools and predictive text input support on the slider handset. A 3.2-megapixel rear camera is indeed the major attraction point of the 7230 phone. The rear camera features 2048 x 1536 pixels and it can capture QVGA video at 15 frames per second. Unfortunately, the 3G phone misses out on a front camera, so users can't make video calls. 
Design
As indicated above, the 7230 is a slider phone. The keypad of the device needs to be slipped vertically to use. As you can guess, it is a small and dinkier phone. It rocks the dimensions of 98mm length, 48mm height and 14.8mm thickness. As far the weight is concerned, it is only 100 gram.
Bottomline
The 7230 may be a lower end budget phone, but it features a 3.2-megapixel rear camera and a proper headphone jack. These features help users capture good quality images and use any standard headphones to enjoy music. Moreover, it has a microUSB socket, which is a way both to transfer files with PCs and also to charge the device. The S40 firmware and its interface also support the handset. Needless to mention, Nokia 7230 is priced reasonably.