Just when others were swamped with trimming down the chassis of their upcoming mobile phones, Nokia decided to focus on strengthening its portfolio of mid-budget phones. The 7210 Supernova from Nokia is one such mobile phone that combines sleek looks with optimum performance. Perfect for anyone who doesn't want to strain those tiny pockets, the stylish mid-budget phone seamlessly gains points for its design and courteous price tag. Though the handset features almost everything to keep users engrossed, its music functions may intrigue evermore.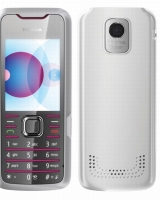 Performance
Designed for users who want a pocket-conscious, good-looking phone, Supernova 7210 delivers a considerable user experience. The device's keypad may appear somewhat cool, but it's sort of hard to get used to. They candybar phone, however, scores good points on displaying images and videos. Some may find the display as among its best features, though clarity and sharpness have been maintained pretty well. In fact, the display renders better image quality than Nokia's flagship Supernova model. The camera experience, on the other hand, is decent as users can conveniently capture their moments clearly. Based on Series 40 User Interface, the unit even boasts of its simple to use interface that makes it simpler to sift through the integrated functions. The tri-band model further makes sure that users stay connected through seamless messaging and email whereas its music player and FM stereo radio takes care of music admirers.
Features
The TFT 7210 model from Supernova Series comes equipped with a decent 2-inch QVGA display that should enable users to indulge in noteworthy clarity. The integrated display also lends support to 240 x 320 pixel resolution and up to 262k colors for sharpness and visual transparency. Quite a lot of great treat, Nokia's trendy looking 7210 now lets users enjoy their favorite tunes on the go and share their experience with others around. At the same time, the 69.8g device also takes care of your photography needs by embedding a decent 2-megapixel camera.
Design
In terms of design, Supernova 7210 definitely flaunts nice, sleek exterior that should complement those who like sporting something stylish. Though Nokia has infused eye-catchy color combinations, the candybar handset, however, manages to look super trendy yet subtle at the same time. The white and pink combination may catch girls' attention the most, for obvious reasons. As far as the fabrication is concerned, the mobile phone is made using polished plastic which certainly feels sturdy in hands and doesn't give a sense of cheapness. The super light handset furthermore touts to be one of the slimmest phones designed by Nokia. What are the dimensions? Well, it comes to around 106mm x 45mm x 10.6mm.
Bottomline
In a nutshell, Nokia 7210 Supernova does pull off well in sweeping budget-conscious users off their feet. Although there's a huge scope for improvements, the phone can still be a good choice for users who want decent features without drilling a hole in their pocket. Tagged at just about Rs. 4,166, Supernova should certainly satisfy mid-budget phone seekers.