Designed for music-lovers, Nokia 5530, a GSM phone, comes with a great variety of features, most of them concentrated on its music- and video-playing capabilities. It has a touch interface making it easier and more interactive to operate. It also supports features for quick access, share and mix audio and videos as per the user's choice and provides support to various media formats.
Nokia 5530 XpressMusic has a scrolling 'Contacts' bar that can display contact details, such as emails, phone calls, photos or other social media updates, of up to 20 people. The pop-up media bar gives easy access to your music, images and videos. Internet and online sharing applications, such as Ovi Share and Flickr, are also supported by this cellphone. If one wants to place some shortcuts on the homescreen, he/she can do that in Nokia 5530 XpressMusic.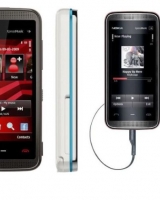 Performance
The drawbacks of Nokia 5530 XpressMusic should not cloud over its performance, which is much better than its previous version. Armed with a stylish look to attract eyeballs and GSM/EDGE network options, this cellphone is suitable for both who want his/her friends to appreciate it and who want more network options. Internet can be connected on either Wireless LAN or Wireless network, thus giving the user more options to surf with.
As expected, Nokia 5530 XpressMusic has a very good music player, which is provided with a whopping 27 hours of playback time along with excellent audio quality and a separate 4 GB memory card for storing music and other media, thus giving extra space to your microSD card for other purposes. A 2.9 inch widescreen display is much clearer, giving you a more sanctifying experience.
Features
Nokia 5530 XpressMusic comes with a 2.9-inch brilliant widescreen that supports up to 16 million colors, giving a better look on the screen. The 3.2 megapixel camera supports flash and auto-focus, but is not the strong point of this model. The Touch-screen is responsive with a tactile feedback. The cellphone offers access to a maximum of 20 favorite, complete contacts on the home screen, offering a better calling experience.
The strongest point of XpressMusic is the music-player. It has excellent audio quality stereo speakers supporting surround sound and dedicated music keys. A 4GB MicroSD card is included by default, and can be expanded up to 16 GB. The model supports Nokia Stereo Headset WH-205 (in-ear headphone) and standard 3.5mm headphone jack.
Design
The Nokia 5530 XpressMusic is very similar to Nokia 5800 XpressMusic, with some additional features of course. Most of the previous cellphone model's drawbacks can be spotted in this version as well – plastic handset, smaller display-screen, vulnerable battery cover, rattling keypad lock key and thin and flimsy plastic flap on the SIM and microSD card slots.
Bottomline
In a place that has networks in 3G, 4G and, soon, 5G, Nokia 5530 XpressMusic may not able to compete with other cellphones providing the feature, but nothing more can be expected from this lightly advanced version of Nokia 5800 XpressMusic. It costs, however, cheaper than other cellphones providing the very same facilities, and is thus a very good option for people with a fixed budget. Its music-playing ability is much better and is a must for those who are into music and videos. In short, if one has no qualms about the lack of 3G network support and has a knack of hearing music, Nokia 5530 XpressMusic is a good option he/she can explore.