Nokia has added one more new member in its mobile devices family, as Nokia has introduced its latest Nokia 6301 mobile phone with flawless voice and data mobility across GSM cellular and WLAN networks through Unlicensed Mobile Access (UMA) technology.
The sleek design Nokia 6310 uses UMA technology, so that users can use the GSM network or a broadband Internet-connected WLAN network for mobile services. With the Nokia 6310, customers can get awesome indoor coverage at the office as well as at the residence. With the WLAN/UMA, customers can receive excellent coverage and sound quality.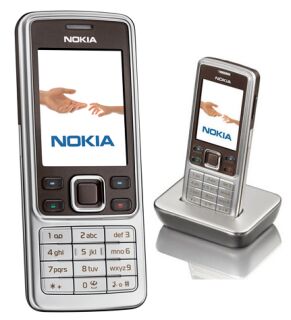 The Nokia is just only 93 grams and measures less than 13.1 mm thin. The Nokia 6301 comes with Nokia Desk Stand DT-23, which keeps its battery charged while connected to WLAN. The other key features of the Nokia 6301 mobile phone are :
2 MP camera with 8x digital zoom
Full screen viewfinder
2-inch QVGA screen
USB/PC Synchronization
Internal user memory of 30MB and 128MB in-box microSD card, with support for up to 4GB microSD cards
Voice dialing, voice commands and voice recording
MP3 player, FM radio
Integrated hands-free speaker
Talk-time of up to 3.5 hours and a standby time of up to 14 days
Customer can have one multi-mode handset, which will work everywhere with advanced convenient voice services. It is expected that Nokia will ship by the end of year 2007 in Europe at 230 Euros.