Nokia 500 is one of the most cost effective Symbian phones available in today's market. This is Nokia's first 1GHz Symbian Anna smartphone, which can help the company to catch back its lost market. Capturing the market is a different thing; first, we have to see if the phone has the ability to fulfill user's expectations.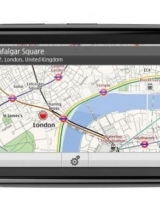 Performance
Nokia 500 has a bumping processing, fast OS and excellent data transfer speed. Its connectivity package is hard to defeat in this section, especially with penta-band HSPA coverage and free SatNav. It can transfer data at a speed of 14.4 Mbps, so you can use it easily for chat and Skype.
The two dominating limitations of the phone are its memory and screen. By memory, I mean RAM here. The phone starts with 256 MB, but around 64 MB of RAM is allocated to handle graphic responsibilities as there is no GPU and only around 66 MB is left for the smartphone for other processes. Apart from that, the display is not colorful/clear enough and any one with big fingers will struggle to type. Low-end media and imaging are again a warning for the users, but a long queue of negative points is not surprising for a basic smartphone.
To use the phone, you have to unlock button and the tap the "Unlock" prompt on the screen. Once you are ready to put it back into the pocket, press the same button again.
Features
The phone sports a decent 1GHz processor based on ARM 11 architecture and 5-megapixel camera. Nokia 500 has RAM of 256 MB, ROM of 512 MB, an internal memory of 2 GB, an expandable memory up to 32 GB and it runs on Symbian Anna that is expected to get an upgrade for Belle further down the road. It comes with a 3.2-inch capacitive touch screen with 360×640 pixel resolution and 229-ppi pixel density, Bluetooth v2.1 with A2DP and stereo FM Radio with RDS. It supports 3G, Wi-Fi, GPS and GPRS/EDGE (class 33).
Sound quality of the phone is more or less same to any other Nokia phone, but its headphone provides a mega bass.
Design
Phone's body and design is simple, light and slim. It is a true candy bar phone with narrow rectangular front. Once you turn it, a nice curved back with camera and speaker grill is revealed. Curved back makes it comfortable to hold and its soft rubbery finish gives a pleasant touch. The back cover slips out with a simple click and make it easy to switch if you are getting bored with the old hue. However, its body can be smudged with fingerprints in no time. If you want to keep the good looks, you have to clean it regularly.
On the right, there is a volume rocker and lock/power button while all the ports including micro USB, charging and 3.5 mm headphone jack are mounted on the top. The call, menu and hang up buttons lie beneath the screen on a single strip of black plastic matching screen glass. Overall, it is a nice and comfortable design according to its price.
With a weight of 93 gm, thickness of 73 cc (14.1 mm/0.55 inch)and dimensions 111.3 x 53.8 x 14.4 mm, the phone is available in many colors including coral red, green, silver, black, white, azure blue, orange and pink. Back covers are also available in different colors such as black, khaki, red, green and purple.
Bottomline
There are many advantages and disadvantages of the phone, but it has attractive specifications and offers a good value for money. The question here is – the phone can live up to the expectation or not? Well, that depends on the buyer. For example, if a person expects multi tasking and tries the phone, then he or she will not approve the purchase. On the other hand, if a user takes cost-based decision and buys the phone, he will simply say-this phone is very nice, it really fits in my hand and is very comfortable.