If you are not looking for a fancy handset and want to lay your hands on a candid candy bar and sleek handset, then Nokia 1202 is the one you should grab without a second thought. This economical phone, designed to meet the market requirements in developing economies, has turned out to be a huge success, thanks to its fine monochrome graphic display and a user-friendly interface. The keypad sports a fashionable design and is dust resistant. Although this is not exactly the phone, you would like to show off in public, the battery backup and an affordable price at which it is placed, makes this a desirable commodity for a common man.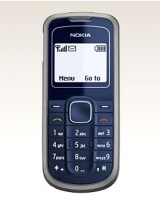 Performance
The first thing that you will notice while you are on a call on this mobile is that it is very loud. Since it's a basic mobile phone, the voice reception is ordinary. You would have to decrease the volume for clarity. Battery back up is quite appreciable as mentioned before.
Features
Weighing 78 g, it has a sleek body that has dimensions of 105.3 x 45 x 13.1 mm and a volume of 61.8 cc. The monochrome graphic display has a 90 ppi pixel density @ 96 X 68 pixels, 1.3 inch screen. Nokia 1202 supports polyphonic downloadable ring tones and the vibration mode can be switched on when required. The mobile can store 200 contacts and can maintain a call log of 20 missed, dialed and received calls. A standard battery, BL-4C, Li-Ion 720 mAh, provides a standby time of 624 hours and talk time of 8 hours. The main features of this mobile are Flashlight, FM radio, T9 mode for texting, Calendar, Calculator, Currency Converter and built-in hands free.
Design
With a unique, simple plastic design, Nokia 1202 is a commendable handset that serves basic purposes like calling and messaging. It boasts of a beautiful dust resistant key pad that makes the user very comfortable. The overall design of the handset has nothing gaudy to show off or brag about.
Bottomline
This sleek handset is worth every penny if you are looking for a simple mobile that can serve basic requirements like calling and messaging. In spite of it's few drawbacks, priced at an affordable INR 1100, you can't get a better mobile than this. Just go for it!