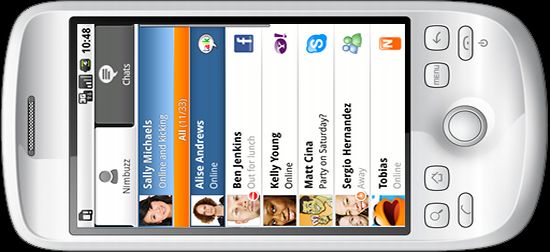 If anything was missing from the Android OS contingent, it was the availability of a top-notch mobile social messaging service and that gap has been filled up with the introduction of Nimbuzz on Android. Indeed, Nimbuzz looks in an all conquering mood offering features that reflect the intent to make Nimbuzz the most sophisticated mobile social messaging application for Android handsets. From the long list of features, we talk about an impressive few-there is a smart buddy list layout which displays information in an intelligent manner combining avatar and presence information in one. (check video after the jump)

Also, what you would adore is a time sensitive UI where once you press a buddy's name a touch longer; it will open the chat widget directly while a small tap will let you access his profile. Just to make sure you are aware about everything, there are home screen notifications that alert you on the home screen of activities such as incoming chats while Nimbuzz continues to run in the background.
Another important feature is the auto-reconnect which helps you reconnect automatically while switching between networks. For the Android users exclusively, Nimbuzz integrates Skype IM and local social networks from various other countries.
Via: Nimbuzz