Apple and AT&T have come together to create an additional service that allows iPhone users to Push to Talk and announced this plan at the WWDC meet. AT&T had also teamed up previously with Verizon Wireless to develop plans for the same services which can be found on many devices. Head of mobility solutions, Mike Troiano, had also developed the EPTT (Enhance Push to Talk) services for other industries like hospitality, engineering, construction and manufacturing where continuous instant communication is needed. It was distributed though their 4G LTE systems.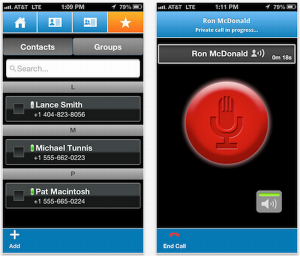 AT&T EPTT App for iPhone:
The EPTT system can also be used by corporations for internal communications means; it cannot be used on a cellular network as the signals can be picked up by Wi-Fi networks. For this reason, a lot of companies choose to set up a Wi-Fi network that will cover the entire expanse o ft heir company for easier communications between workers. This seems to be a move on part of Apple to broaden the functionality of the iPhone by adding a service that their users will find helpful. It should also encourage Sprint customers to buy iPhones that have EPTT enabled on them. Sprint plans to wrap up their Direct Connect plans by June and has found it increasingly difficult for people to switch over to their other plans, quite often losing them to Verizon.
How the App Works:
This move will benefit both Apple and Sprint as Apple will increase the number of sales of the iPhone and Sprint may be able to retain customers. Most Android handsets already have this feature that can be downloaded as an application, now the iPhone will have this helpful feature that will turn your phone into a walkie-talkie. This may also encourage those people who work in industries that require instant communication to buy the iPhone, install the application that will help them to stay in communication with their colleagues. The application as designed by AT&T allows you to talk to a group of 250 people, maintain a list of over 1000 contacts. You can also see who is available and who isn't and run many applications at the same time; this will be especially beneficial for their corporate customers. But simply downloading the application may not always work, so you will have to integrate it with the AT&T plans. This move also comes at a time when Sprint will be closing down their Nextel branch as it is not capable of supporting data being transferred at high speeds.