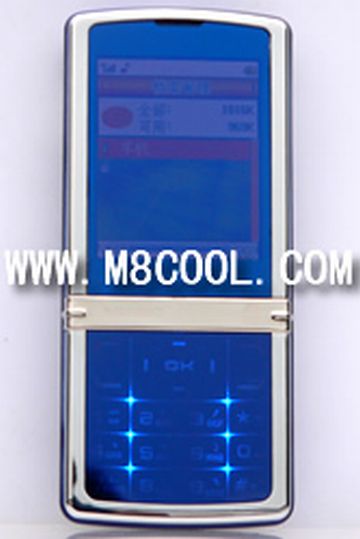 Mysterious is attractive, so goes the saying. So, this Chinese unnamed mysterious yet gorgeous phone is definitely a thing of beauty. The color combination of chrome and blues looks simply amazing.
Though of unknown origin, this phone has superb LCD based display and navigation, features a VGA camera, support for microSD, Bluetooth, support equalizer, GPRS download, MMS, Memory extended, and stereo speakers. The phone weighs 85 grams and its dimension is 110x48x15 mm. The keyboard has been kept safe under a thin special material, which also gives the oomph factor. The faint blue color lighting is just yet another of its charm that cannot go unnoticed.
It is apparent the branding hasn't been done smartly. But otherwise, this is one hell of a killing looks phone. It also has an obvious similarity with the LG shine range of mobile phones. Only this one is more brilliant in looks!
Source: uberphones
Image source: eemobi