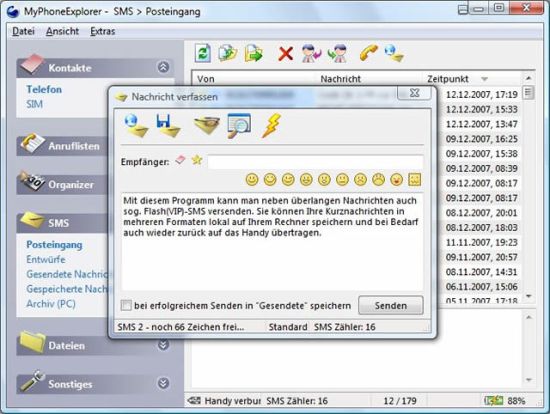 Anything which offers to ease the whole cell phone-PC interaction is welcome. And if you have a Sony Ericsson cell phone in possession then you'd surely appreciate a new version of software called MyPhoneExplorer. MyPhoneExplorer 1.7 allows proud owners of a SE mobile phone to explore his/her mobile with effortlessness. This software works with all phones from Sony Ericsson except 800i, P900i and P910i (and obviously those which do not come with a PC interface). All the user needs to do is install this software, establish connection via either cable, Bluetooth or infrared and then enjoy the various tools that MyPhoneExplorer 1.7 offers to interact with the device. Among the various specs on offer are:
• Address book – with direct sync to Outlook, Outlook Express, Lotus Notes and Thunderbird;
• Organizer with calendar view and direct sync to Outlook, Sunbird, Thunderbird, Rainlendar, Lotus Notes, Google and net shared calendars (WebDAV, FTP, local);
• SMS – archive, export, import, excessive messages;
• File browser with cache system to minimize data-transfer;
• Set phone clock based on atom-time;
• And much more. f.e.: call-lists, edit profiles, phone-monitor.
Follow the link to download it.