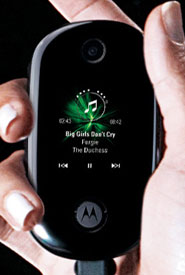 Motorola is successfully selling all its lineups right from SLVR to ROKR. Now the company wants to sell its cell phones under the names which are popular in the market.
This unique business strategy can get a new name to the company's clamshell phone PEBL. According to a rumor, the company is planning to add the clamshell phone to the ROKR brand renaming it ROKR U9.
The phone will also feature an external display screen with music player control buttons; something they had to do to bring it under the ROKR's flagship. Most likely the phone will support 3G data connection. Till now there has been no official confirmation on the product or its price and availability.
Via: Slashphone