In partnership with Intel Corporation, Motorola Mobility has just introduced their latest offering to the world- the Motorola RAZR™ i with Intel Inside®. The smartphone is the company's first edge-to-edge display offering. With virtually no border, the 4.3-inch Super AMOLED Advanced display enhances the phone's appeal and functionality superbly. The Motorola RAZR i is powered by Android 4.0 ICS OS which is upgradable to Jelly Bean as and when it becomes available for the phone.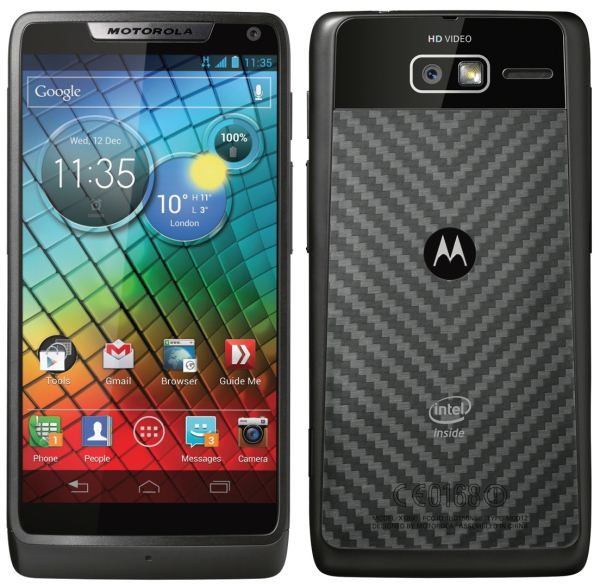 Paired with a 2.0 GHz Intel® Atom™ processor, the OS makes loading apps easier and helps the phone stay at the top of its game. The RAZR i also comes with NFC technology to send maps, links, contacts, etc. to compatible devices instantly. Voice Actions for Android™ helps people control their phones with their voices while apps like Google Maps for Android™ enhance the functionality of the phone. The smartphone has been given a quick launching 8 MP camera that loads up in less than one second and can snap up to 10 images in one second in multi-shot more.
The RAZR i is designed to be durable and sturdy. To ward off scrapes and scratches, the phone is fronted by Corning® Gorilla® Glass and comes framed in an aircraft-grade diamond cut aluminum4 casing. At the back, the phone comes with a splash-guard DuPont™ KEVLAR® coating to make the phone weather proof. The phone is designed to deliver more power per full charge thanks to an innovative new battery saving rule called SMARTACTIONS™.
The phone is also laced with an exclusive Guide Me app that serves as a swipable manual and provides users with step-by-step tutorials while the Circles Widget offers users easy access to time, weather, notifications, etc. Motorola RAZR i will be offered in black and will be available in select markets in Latin America and Europe beginning in October. Pricing for the phone has not yet been announced.
This post has been sponsored by Motorola.