You might have heard, "bigger is better". Many mobile manufacturing companies have shirked from extremely big sized phones but Motorola certainly believes in the saying. The testimony to this is its Droid X, a scaled up version of its predecessor Droid, which also was one of the best initial Android based phones. Considering this fact Droid X holds high responsibility not to let down the reputation of Droid series from Motorola. You will look at it and you would realize the phone means muscle in terms of processing, large screen real estate, high definition video recorder camera, and more.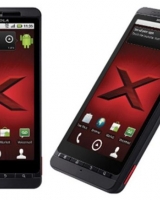 Performance
The powerful hardware means there is enough inside to give a slick interface. You won't have to wait to go from one home screen to other or to launch applications. The phone is adequate for gaming and web browsing is swift. However, to play the flash content, you'll have to upgrade phone to Android 2.3. You can integrate your Facebook, MySpace, Twitter, and Google contacts with your phone's contact list in no time. Its camera is its strongest feature that shoots with an impressive field of depth. It takes great pictures even in dimmer conditions and records videos at 720p. The call quality was crisp and flawless thanks to three different microphone that help in noise cancellation. Motoblur UI placed atop Android offers a number of widgets and you won't even have to create a Motoblur account for that. The videos play without judder and there are no issues with playback. You can turn it into a Wi-Fi router and can share your high-speed internet connection with your friends. You can listen to music with your favorite headphones thanks to the 3.5mm headset jack and can see your videos and images on the HDTV by connecting to the HDMI port. The battery life is great and comparable to the likes of Samsung Galaxy S.
Features
Droid X is one of those massive Android toys with 4.3 inches screen that give you ample screen real estate to play with at 854 by 480 pixels resolution. What runs it under the hood is TI OMAP 3630 that clocks at 1GHz and a PowerVR SGX530 graphics chip. In case you're not familiar with all this nomenclature it would suffice to say all this makes the interface slick and operations faster. You won't have any problems playing those demanding games on the beast. The phone was launched with Android 2.1 (Eclair), which can be upgraded to Android 2.3 (Gingerbread). Talking about connectivity it is a 3G phone that offers speed up to 3.1 Mbps and also offers Wi-Fi and A2DP Bluetooth. In terms of memory, it takes care of you processing as well as multimedia storage needs. The comes with a 512 MB RAM, 8GB in built memory and a 16GB microSD card.
Droid X doesn't come with a physical keyboard like its predecessor and you'll have to suffice with the virtual one, which actually works pretty well. The 8MP camera gives vivid and sharp images and can record 720p videos at 24 frames per second. It comes with a number of additional features for e.g. Panorama Assist, which helps you take one of those widescreen pics. There is a HDMI port, DLNA support and 1570 mAh battery, which can be replaced by the 1930 mAh battery as an add on accessory in case you often forget charging your phone.
Design
Its a mammoth phone to hold in your hand with the overall dimensions 127.5 x 65.5 x 9.9 mm, though it is not bulky with 9.9 mm thickness 155 g weight. The back side constitutes the soft plastic and improves your grip over the phone. It has a hump on the backside, which houses its 8MP camera and a dual LED flash. There are USB and HDMI ports on the left, while the volume rocker and camera shutter are positioned on the opposite side. At the top lies the 3.5mm audio jack and Power/Lock button. There are Menu, Home, Back, and Search buttons below the screen that will you in navigation.
Bottomline
Motorola Droid X is certainly bound to impress you and your friends, thanks to its powerful hardware accompanied with Android. It's a complete in its own right that doesn't leave any stone unturned given to the features it offers. It stands tall with the likes of Samsung Galaxy S and iPhone 4. All that should determine your choice is how and which one of these suits you the most.