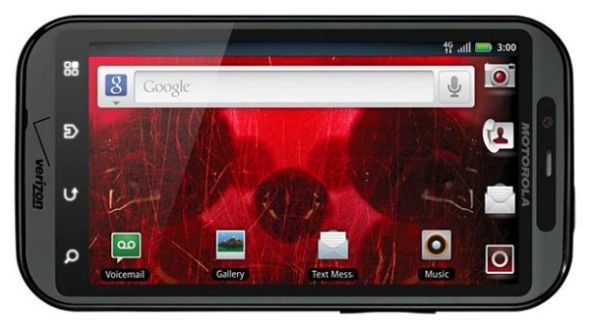 With an Android device from every known company that sells electronics, Motorola couldn't be expected to sit back and relax. And so, it's lived up to everyone's expectations by bringing in the Droid Bionic – its own Android child. With a sleek body that is so characteristic of Motorola, this one looks like it's going be selling like hot cakes. But, let's take a look at everything in detail, and convince ourselves better.
The Player
Being the new kid on the block, the Bionic hasn't failed to surprise us with its sleek body, and wide screen, 4.3 inches to be precise. It is a lightweight phone with most of the features that most really good Android phones have today, and the Samsung Galaxy SII happens to top that particular list. Though fast and 4G compliant, our friends at Motorola have also let a few glitches slide, but then everything has a good and a bad, not to mention, ugly, but let's just skip the ugly part for now.
The good

Power at your fingertips
One can't exactly say, "Don't get me started!" when it comes to the good stuff this phone happens to have, but it doesn't fail to impress the average new-phone-lover. It's pretty fast for a phone in its cadre, the only competition being the Photon 4G by Sprint, with the Galaxy SII standing as a strong contender as well. It's got the hard disk space to fit a mountain, which makes sure that one can fit all those favorite games and music and what not in the phone, and still not run out of space. So, this becomes a phone for the busy businessman too, because all those folders and papers can be such a pain to carry otherwise.
Why good
And just why wouldn't you call a phone good, when it's got everything you have wanted, all in one slim and sleek casing. The Droid Bionic has 4G for hyperfast downloading and sharing, a dual core 1GHz processor with 1GB of RAM to help you glide along your work on the phone, an 8 megapixel camera to shoot the best possible photographs, and capture videos with 1080p resolution with virtually no lag, and an oh-so-convenient front camera that helps you enjoy video chats with friends and family, layered with a long battery life. And all this with the comfort of being able to fit in your pocket, not to mention the web top accessories that you can connect the phone with to start your conquest to take over the world. Nothing short of Wow, eh?
The bad
What has its good also has its bad, like the two faces of a coin. With the to die for features that Motorola has equipped the Droid Bionic with, one wouldn't want to complain. But a critic's got to do, what a critic's got to do. Though you can navigate across the screen at the speed of light, you have to navigate just too much. There are applications that you would rather get rid of, but it looks like something that's not possible. For those who aren't really used to using a Motorola phone, things can get a little tough because of the user interface. The screen happens to be a little too bright, so scrunching your eyes becomes a constant on the face. And no matter how much one would hate to think about it, the price is just way too high, not to mention, the separate purchase of webtop accessories. Too, too expensive.
Why bad
Number one – the screens too bright! One may like the first few minutes, but after that, the eyes would definitely begin to hurt. The second problem would be the user interface that happens to be Motorola's own. Though not very difficult to get used to, it's something that would take a lot of time to get to know. The software is a mixture of spices that will make you happy and sad at the same time. So, not a good thing. Apart from these, there's the issue of too many default applications, and what's more? You can't delete or uninstall them, because the bootloader is locked. Sad for a phone that's made everybody wait for so long.
What needs change
Of course, we were promised amazing battery life, but it so happens that the batteries are huffing and puffing by the afternoon because the phone has just so much to offer. To make up for battery life, one can choose to stay in the 3G mode for most of the day, but why buy a 4G phone then? The screen apart from being too bright isn't very clear, so that sweeps the room for improvement. Software issues are nothing new to phones, but when you're buying something with $300, software problems can be a downer. Also, the fact that you must buy the webtop accessories separately would make one think twice before getting the phone. No one's badmouthing this phone, but one's got to know the pros and cons, right?
The ugly
Well, the only place that you can punch this phone is for being too expensive along with the webtop. Not many are ready to shell that kind of money for a phone. Might as well buy a laptop, right?
Why ugly
One major reason why people are disappointed is that the Droid Bionic is late. Though it has every feature that one wants under one roof, it isn't exactly the latest thing in the market. There are other phones which are already equipped with many of these features and more, and development has still not ceased, with news of upgrades around every corner.
Critical viewpoint
If one puts across the question, "Should I buy it, or shouldn't I?", the answer would be bordering between the two, but after every line of praise there's a "but", which can push anyone to the edge. So, yes you could buy it, but only if you have the finances, and only if you have that reservoir of patience usually characteristic of mothers.
The Verdict
So, all in all, this is a phone that has proved to be worth the 9 month long wait. It's an all-in-one, mini PC in the pocket, which makes life so much easier to deal with. But there are few glitches here and there that must be dealt with, and this, coupled with the "really expensive" tag makes it hard to swallow. So, the only possible solution that's made its way through the jungle of confusion is to wait and watch.