If you are a QWERTY lover and have got bored with your smartphone, then you may have a reason to celebrate in couple of weeks. The only condition is that you have to be on Verizon's network. If we believe the leak, the fourth generation of Motorola Droid is arriving on 8 December, Thursday online and in retail stores. After the successful Droid 3, Motorola is going to launch one more smartphone in the Droid series. With powerful hardware, stylish design and slide-out QWERTY keyboard, Motorola Droid can be the biggest niche phone until date. It will succeed the currently available Droid 3 smartphone.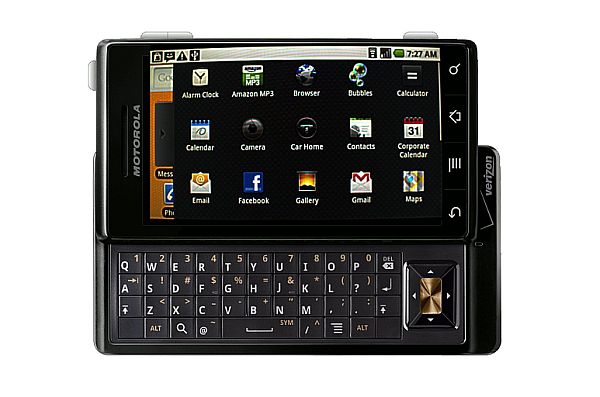 What is it?
Droid 4 is the latest offering from Motorola that will come with QWERTY slide out keyboard and boast the good looks of RAZR. It will be the fourth entry in the Droid and Verizon's lineup. It will be common with its predecessors, but with some improvements including a slimmer design. Like the previous models, Droid 4 will ship with four rows of keys and one row dedicated to numbers. This device will definitely fill the gap in the market for those who like the buttons.
For whom
The phone will be interesting for those who are looking for a Droid with slid out QWERTY keyboard and 4G LTE support. People who are already using Droid 3 will not interested because there is nothing new in this smartphone except the 4G LTE support.
Price and availability
Motorola Droid 4 is expected to launch on December 8 in USA along with the Samsung Galaxy Nexus. However, the date can be changed and there are chances that something new comes up between now and then. Date can be changed, but one thing is sure that the company will launch it before Christmas. The price of the smartphone is currently not available, once released by the company we will update you about the same.
Why the hype?
The problem is, Android powered phone are little unattractive and underpowered when compared to their competitors. Phones like Nokia E7 and Sony Ericsson Mini Pro are good but they are not innovative phones or you can say, they are not cutting edge. That is why, we all are excited about Motorola Droid 4. Apart from that, Droid will share the screen with Galaxy Nexus handset, this is the second reason everybody is discussing about the phone. Frankly speaking, there are no official report for either phones, we have to wait and watch if this rumor becomes reality.
Functionality
The handset will come with 1.2GHz dual-core processor, 4-inch advanced super AMOLED display (producing a probable 275 ppi), 1 GB RAM and slide out five row illuminating QWERTY keyboard. Display is a slightly smaller version of that found on the Droid RAZR. The back light will make the keyboard visible even in the low visible areas and darkness.
It runs on Android 2.3.5 Gingerbread and includes 8-megapixel rear camera supporting 1080 p video, 1.3 megapixel front facing camera, Moto ACTV sync and an HDMI port. This video output including a micro USB port will arranged to give the device support for Motorola's web top accessories that can give a functionality of laptop or desktop to this device. A Texas Instruments OMAP4 processor will give the facility of 1080 p and the ACTV sync will allow synchronization with devices.
The phone will support Bluetooth, Wi-Fi, 3Gand GPS. Apart from that, it will also support 4G LTE network of Verizon for fast data network connectivity. There is a possibility that the handset will remain CDMA locked with Verizon carrier and will ship with a non-removable battery. Many fans of Motorola have already opposed the company to make CDMA handsets, let us see if that makes any effect on them.
What's different
One remarkable improvement in Droid 4 will be the support for 4G LTE support. When Droid 3 was launched earlier this year, it faced a lot of criticism due to the lack of 4G support because many of the high-end phones were capable to support 4G at that time. Right now, it is expected that the phone will come with Android 2.30 that it will be upgraded to 4.0. We have to see, it happens before or after release.