Motorola Backflip is a sporty handset that has been built with stupendous design accents. As the name describes, this handset has its keypad on the rear face rather than inside the flipping side. The device flaunts amiable features with better performance parameters as well. Apart from its distinct design, the handset encloses a track-pad at a convenient location. The device's unique form-factor had challenged Motorola's engineers and designers to integrate other features like camera, flashlight, battery compartment, etc., meticulously. Check out this handset's brilliance on your own.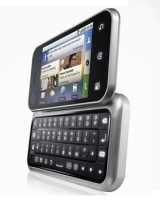 Performance
Motorola Backflip delivers an overall convincing performance with its powerful battery and sumptuous features. Its 5.1 MP primary camera captures images in high quality. LED flashlight allow users to click pictures even at low light situations; however, noise is quite visible in poorly lit images. The quality of motion images slightly disappoints the contemporary users. The handset's standard Li-Ion battery with a rated capacity of 1400 mAh delivers a convincing talk-period of up to 6 hours and a standby time of about 315 hours. The use of track-pad might be slightly difficult for beginners; but, it becomes easy to use as they adapt. The processing speed is quite slow and the handset has small RAM memory.
Features
Motorola Backflip runs on Android Operating System version 1.5, typically known as cupcake version. The device withholds a 3.1 inches TFT capacitive touchscreen. Its pixel density is approximated to 186 ppi while its resolution size is 320 x 480 pixels. About 256K vibrant colors could be recognized on this display screen. A Corning Gorilla glass protects the screen from scratches and dust. As mentioned earlier, the most amazing part of this handset is its rear positioned track-pad. When the handset is flip open, users can access the track pad while holding the device comfortably.
Motorola Backflip has 528 MHz ARM 11 processor and a Qualcomm MSM7201A chipset. The presence of an accelerometer automatically orientates the display screen according to the handset's position. The device is compatible with sophisticated data transfer technologies such as GPRS and Wi-Fi which deliver effortless browsing experiences. In fact, the device supports tri-bands and quad-bands too. Accessing email, MMS, push mail and Instant Messaging are literally a child's play with this sophisticated device. In addition, this handset features a unique social networking integration called MOTOBLUR. Fortunately, it has GPS feature for navigational assistance.
On the multimedia side, Motorola backflip boosts a 5MP primary camera. Literally, it could capture images in the resolution of 2560 x 1920 pixels. It could also record videos at 30 fps. Inclusion of auto-focus and Geo-tagging amplifies the handset's camera. The presence of LED flashlight assists the primary camera during low-lit situations. Unfortunately, the device misses out a front facing secondary camera and a FM radio as well. Bluetooth and microUSB features assist the handset in exchanging data with various external devices. A standard Lihium-Ion battery powers up this device. Apart from the inbuilt storage, it supports an expandable memory capacity of up to 32 GB through microSD cards.
Design
Motorola Backflip flashes a marvelous and distinct form-factor which captivates everybody at the first glance itself. On the front face, the 3.6 inches touchscreen with the customary buttons cover the entire area. Unusually, a full QWERTY keypad is designed on the rear face. When users flip open the handset and turn back the device, they could understand the manufacturer's brilliant design. At this position, users can access its track-pad at ease without turning the device back. The micro USB port, volume rocker and the dedicated shutter button could be identified on the right face, while the standard 3.5 mm audio jack is positioned on the upper face.
Bottomline
Motorola Backflip deserves a standing ovation for its stupendous design. The handset performs well with its predominant features. Except its slower speed, nothing else could be a limiting factor for those who opt to buy this phone. The handset's price tag is affordable when compared to other handsets. However, buyers who wish to buy contemporary handsets with a compact and handy design, there are several other mind-boggling gadgets available in the current market.