Since today's smartphones flaunt high data speed, massive dual core processors and high definition cameras, they are equivalent to computers. Motorola Atrix is one such, dual core device which also works as a laptop, set top box, desktop computer and yes, it works as a smartphone too. Even without turning into a laptop or desktop, Atrix is one of the top line smartphones for technology lovers. According to Motorola, this is the world's most powerful smartphone.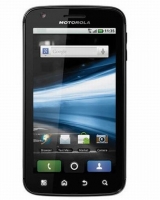 Performance
Atrix is a winner in every area. Dual core processor delivers at its best, and this is the reason why the handset handles every task or app without any delay or fumble. Display of the smartphone is truly excellent – sharper than any other current handset. The screen looks a bit washed in bright sunlight, still users can see everything clearly. Touch screen is super responsive, in terms of both registering touches and using applications.
It gets hot during extended use, especially around the lower right hand corner. The fingerprint reader works well and you cannot fool it by placing other fingers. Call quality is not great, but it is good enough.
Features
Sporting a 4-inch, 960 x 540 gorilla glass display, HSPA+ data and a bunch of other juicy features, Atrix is first of its kind that has the capability to replace your netbook via its WebTop environment. This Android 2.2 smartphone features a dual core processor (Nvidia's Tegra 2 chipset), 5 megapixel shooter on the back that captures HD videos, VGA camera on the front that enables video calls over a cellular or Wi-Fi network and 4G support. It also has a massive 1930mAh battery, 1GB of RAM, 10 GB internal memory and supports micro SD card up to 32GB.
The laptop dock and software designed by Motorola allow you to access the content of the smartphone. One of the most interesting features of the phone is its fingerprint reader, which also works as a password to unlock it.
Design
Motorola Atrix is an attractive phone with dimensions of 2.5 by 4.6 by 0.4 inches, and weight of 4.8 ounces. It comes packed in a smooth black plastic case with attractive fade pattern on the rear panel. Atrix's slim design makes it easy for the users to slip in the pocket while tapered edges and rounded corners give a comfortable grip.
Like most of the Android bar phones, front of the device is nearly all covered with its display. There are some buttons at the bottom and front facing camera, as well as earpiece at the top. Along the top, you will find a power/sleep button, which also works as a fingerprint scanner and a 3.5 mm audio jack. On the right side, we have the volume controller, while on the left you will see the HDMI and micro USB port. 
Bottomline
Motorola Atrix is a unique device with bleeding edge technology that can convert itself into a computer. It has plenty to offer and its laptop dock is a real cool feature, but it is expensive as well. The device combines high-end features and blazing speed in a sleek pack and earns great respect in the Android lineup. Overall, Atrix defines how we will be using our smartphones by the year 2020.