Motorola was the market leader in the initial days of mobile industry, with its Razr series of phones becoming bestsellers. Unfortunately, its inability to keep up with the changes in technology resulted in dwindling sales figures of its gadgets in years. However, thanks to Android, it looks like they are back in business. Currently, they have a number of high end Android phones such as Photon 4G, Droid Bionic and Droid RAZR, which have helped in reviving the company's sales figures. Motorola Atrix is Motorola's one of the groundbreaking cellphones and was first launched at the CES, 2011. Atrix 2 is its successor that comes with a number of updates and a new design.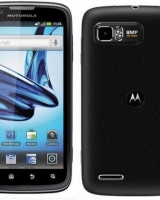 Performance
Gingerbread running on 1 GHz processor ensures your operations on the phone are fast and nimble. You can integrate Facebook or Twitter accounts to your contacts and while you just type a few letters in the search field to find a contact, it pops up the matching results. This is helpful in case you have thousands of Facebook friends. It comes with a predictive text engine that makes messaging a breeze.The phone has a crisp and loud call quality, however, its voice dialing is not accurate enough and is nowhere near Siri in performance.
The bright TFT screen means you wouldn't have any issues in making out the text while web browsing. Its 8 MP takes bright and sharp snapshots and you can also specify a focus area. It is a much welcome improvement over its predecessor and use of different modes actually enhances the images quality significantly. It also does a great job while video recording at 1080p full HD. However, the sound quality is average and speakers playback is dismal. It supports most of the audio/video formats, which actually play quite smoothly. The battery life is above average and continues to give life to your phone even after all day heavy use.
Features
Motorola Atrix 2 is one of the frontline phones of Motorola and so it is evident from the set of features it has to offer. Atrix 2 runs on a 1GHz dual core processor using OMAP4430 chip instead of the Nvidia Tegra 2. Though, Atrix 2 is still stuck with Android 2.3, Gingerbread offering five different home screen panels. The phone boards 1GB RAM and 8GB of internal memory that can be again upgraded to 32GB. The phone has a lot to offer in terms of connectivity as its HSPA+ modem offers speeds up to 21.1Mbps, making it one of the rare 4G phones available in the market.
Thanks to Wi-Fi, you can turn the phone into a mobile hotspot that can serve up to five devices at a time. The 8 MP camera has autofocus and is capable of 1080p video recording. The battery has been reduced from 1,930 to 1,785mAh, but still does a great job. Aside from these custom features, the phone comes with Weptop capabilities, which helps you in transforming your phone into a netbook. You can do web browsing or watch Youtube videos on the bigger screen by plugging it into the phone. Motorola sells a Lapdock along with the phone that will help you make maximum out of its Webtop capabilities.
Design
Unlike other Motorola phones, Atrix 2 comes with curved edges and graceful curves. The phone has a larger 4.3 inch display with the overall dimensions 126 x 66 x 10 mm, which means it is taller, wider and slimmer than its predecessor. The soft touch plastic at the back gives you a better grip over the phone, while Gorilla Glass covers the phone's front portion completely. It boards the qHD display that offers 960 x 540 resolution. Atrix 2 comes without the PenTile display, which surprisingly yields better results than its predecessors.
Below the screen are the four touch sensitive buttons, which are now a standard on all Android phones. The VGA camera in the front will assist you in making video calls. As you skip to the right edge, you'll find a physical camera button, which is a welcome addition to the new Atrix, accompanied by the volume rocker. On the top lies the 3.5mm headphone jack and power button, which also functions as screen lock. On the left is micro USB and HDMI port. The rear portion of the phone has a textured cover and houses 8 MP camera, LED flash and speaker grille.