MobiValet is a savvy smartphone holder that takes care of your precious handset when you are whizzing around in your automobile. Drivers often keep phones on the dashboard, seat, between their legs or even near the steering wheel. This can jeopardize safety while driving, especially if the phone slides and falls down. Hence, an accessory that can hold your phone in place will come handy. Moreover, keeping your phone safe when you are on the road is really important. You need to touch the base with people and at times might even have to make emergency calls. So, if you are looking for a product that can furnish all these benefits, then go for MobiValet.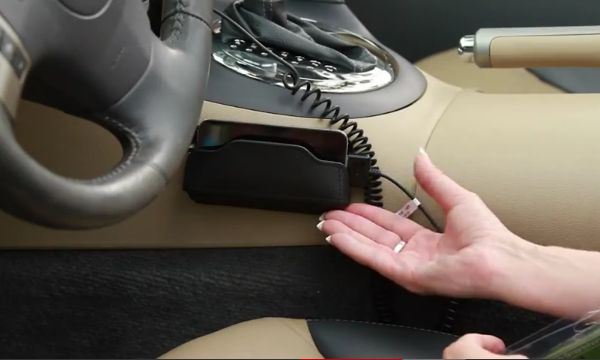 The product is actually a holder that can be fastened and detached easily as it has an acrylic adhesive. So, your phone stays in place while you are whizzing around. Also, you will be able to reach out to the phone easily whenever you get a call or want to give a ring yourself. Additionally, there won't be any setbacks when you try to charge the phone. The lowered sidewall design ensures that nothing comes in the way when you try to power up your phone. Although the strap on accessory is available in two sizes, you don't have to worry about your phone not fitting into the case. The case can accommodate about 99% of the phones in the market.
Along with being a utilitarian piece, the gadget also looks damn swish. So, it will only add to the look of your suave speedster and its swish interior. Furthermore, this accessory is available in many varieties. Browse through different collections like Casual, Premium, and Exotic to take a look at the various styles up for sale. Plus, the fun piece is available in umpteen colors and you can buy either the faux leather or premium version.
Even though there are other such products available, most are dull or plain looking. And the plastic mounts for phones look perpetually hideous. However, in contrast, MobiValet is trendy and dapper with a well stitched exterior. You will love sporting it on your car.
In fact, the design has been patented by the United States Patent and Trademark Office. A patent titled "Holder for a Mobile Communications Device" with the code #D649,145 has been issued for this piece. The smart gadget is the brainchild of a California based firm. Founder and CEO Clay LaFargue has quoted that in trying to handle the phone while driving, many people flout rules and warnings given by traffic alert system. This is exactly what MobiValet hopes to change. The phone holder is currently being retailed through sites like Crowder's Gifts, AccessoryGeeks, Amazon and kymall. Some independent wireless retailers are also vending the product. It will cost you anywhere between $25 to $45 for a piece, depending on what style you have chosen.
Source: PR Web