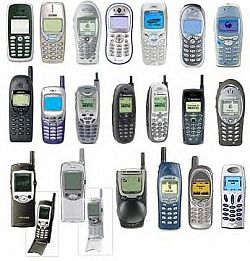 With the improvements in technology that led to a reduction in hardware and software costs, embedded systems such as mobile phones are bound to get cheap.
According to a recent research by ABI more than a dozen manufacturers will be forced to ship models that don't cost more than $50 by the end of next year. This market also known as the Ultra Low Cost Handset or ULCH market is currently dominated by major players such as Nokia and Motorola, other big guns of the industry such as LG, Sony Ericsson are also expected to join the ULCH family soon. This will also force some smaller vendors such as ZTE, Rose Telecom, Kyocera, Sagem, etc. to release phones that don't cost much.
ABI research industry analysts hope that smaller vendors might be able to cut down on the cost of the cellphones by manufacturing in emerging markets and they can also save on the distribution costs by teaming up with mobile service providers. A similar scenario is taking place in India where Rose Telecom and ZTE are providing cheap cellphones for Reliance Communications, the largest CDMA operator in the country.
ABI also expects that by 2011, almost one out of every four handsets will be a ULCH, and India will be the biggest market in the next five years, growing from a little over 9 million handsets in 2006 to more than 116 million handsets in 2011.
Via: Ecoustics