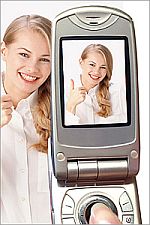 A recent research carried out ABI Research has publicized the fact that the 'Moblogging' will remain a niche in future unless there are some sweeping changes in the market conditions. Well 'Moblogging' is the name given to the practice of uploading the individual's content, especially the pictures, from a camera phone to some video sharing site.
A senior analyst Ken Hyres cited that there will be around 655,000 active (those who continue the process of posting the content regularly) mobloggers globally and in the year 2011, there will be just 2.7 million mobloggers among the 3 billion mobile users.
While the well-liked sites such as MySpace and YouTube are doing quite good, the count of active mobloggers is not increasing at a swift pace. The reason might be poor quality photos due to the cameraphone's quality or cumbersome uploading procedure. Anyway, the cellphone operator's can do a lot to encourage Moblogging in collaboration with sites based on Moblogging.
Via: Cellular-news