All the smartphones recently released has more or less the same design pattern. Most of them come with a large touch screen on the front and few keys or a QWERTY keypad under it. All these phones have great specifications and performance, no question on that, but have you ever thought about a smartphone with two different displays in one case? Yes, it can be possible; Microsoft has apparently filed a patent technology that can result in such product. US Patent and Trademark Office has published some of the details and picture related to company's double-sided display system for tablets and handsets.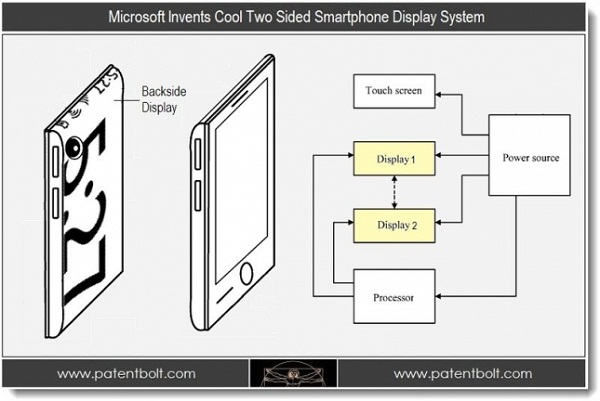 Reduced power
The patent states that there will be an integrated second display on the rear side of the device, which will use its own low powered processor and will be able to reduce power load from the primary display. Back screen may include a low refresh rate and the ability to hold an image indefinitely without the using extra energy. This screen will be able to display much information even if the device is in sleep mode.
Other Advantages
Most probably, the secondary display will be Eink (electronic ink) screen where users can read texts clearly than the front display. It will display certain types of information including date/time, battery information and networks. It could also be used as an aesthetic feature to display limited animations that will give the smartphone a unique look. Vendors can use the secondary display to free up some space from the primary screen. For example, they can move the clock or time/date from the front display to back. They can also use the bonus screen to show some of the extra information that cannot be shown on the front display. What will be displayed on the secondary display? This question will be answered once the patent releases on a live hardware.
According to Microsoft, low power display such as Eink display can be wrapped to the contour's of device surface, hence making use of the corners and edges of the device as a display. While taking the picture of a person, the backside display can provide a visual countdown so that the person can know when to capture that smile.
This technology looks similar to Samsung smart-device skins technology that allows a user to change the appearance of the device like a chameleon and displays information of the rear side. Microsoft is famous for frequently filing patent that never transforms into actual products, but this time it seems that the idea of second display will not remain a dream. This is the reason, we are hoping to see the technology to be implemented in our phones, but there are no words from the company about if or when the feature will be ready to be used in handsets.
Via. Patentbolt