Micromax is one of the fastest growing mobile phone manufacturers and the company has been producing some amazing innovative phones in recent times. The latest innovative product from Micromax is the new X40 mobile phone that comes with an in-built projector. A projector in a phone is not a common feature and not many phones have it yet. The projector is the main attraction of this phone, and it also comes with every multimedia features that give you a great phone experience. The option of adjustment of projector lens gives a user the freedom to change projection length and adjust its viewing size. This phone also presents some cool features such as a Document reader that can open up files in multiple formats like Excel, Word, PDF and even PowerPoint. So this phone is very handy not only entertainment but is more eligible for official usage. The X40 is full of features that will give you the value for money.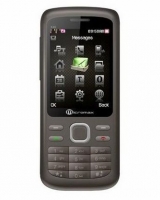 Performance
The overall performance of this phone is outstanding as it stands tall in every aspect. The camera gives decent prints and the video recorded is of good quality. The 1000mAH Li-Ion battery gives a very good standby back up which lasts up to 200 hrs while as the talk time can give 3hrs of continuous calling. The projection of the projector is very good and one can enjoy movies on a big screen rather than watching it on a mobile screen. The adjustment knob on the top of the phone lets the user to adjust the focal length and size so that the user can watch the videos in desired settings.
Features
Micromax X40 runs on the proprietary operating system of the company. Like most of its contemporaries X40 comes with a dual SIM option. The camera is 2.0MP and gives decent quality photos while as the videos are of good resolution as well. The internal storage capacity of X40 is 80MB and can be extended up to 4GB with a microSD card. The band frequency range of this phone is 850/900/1800/1900MHz. It is a GPRS enabled phone and browsing on X40 is a pretty nice experience as it comes with a pre-loaded Opera Mini browser that enhances the browsing experience. Being a projector phone means that the specialty of this phone is multimedia. The multimedia features other than the projector includes Audio player which plays multiple formats such as Mp3, WAV, AMR, AAC. Video player supports 3gp format and the best thing is that you can view those videos directly on the screen via projector. FM radio is an additional feature that provides a good entertainment experience. The list of features is long and continues to include attractive features like Call Blacklist feature. Wanted apps like Facebook, Snaptu and Nimbuzz are all packed in this phone and make X40 a real good gadget for social networking. X40 has a combination of black and grey color in its body design. The twin tone with nice curves gives this phone a nice look. File transfer is helped by Bluetooth which is quiet helping while sending or receiving songs and videos or any other document file.
Design
Micromax X40 is heavily loaded from inside but is light weight from the outside weighing just 148g. It is a bar phone with dimensions of 117x51x17 mm. Its screen is very attractive as it is 2.4inches (6cms) QVGA display and has a resolution of 240x320px. The screen supports 262k colors to give a crisp and clear output. The grip of the phone is very comfortable and one feels at ease while handling the phone.
Bottomline
It is an innovative projector phone that offers every feature that a buyer wants to have and when all this comes at decent price, the product becomes a great deal. X40 gives you the value for your money and is the top phone among its range at an affordable price. The projector being the main attraction doesn't disappoint and provides an insight to a new world of entertainment.