The Indian mobile brand, Micromax, is growing at a fast pace owing to its simplistic designs and striking technologies. To mention, the manufacturer has unleashed significant mobile phones in the basic category, as well as on the high-end luxurious segment. X360 is an entry-level handset with minimalistic features, but doesn't seems to compromise on its performance. The most fortunate feature about this handset is the presence of a built-in digital amplifier, supplied by the highly renowned musical maker, Yamaha, along with the micro-electronics manufacturer, Wolfson. Tagged with an affordable price, Micromax X360 excels with its packaging brilliance.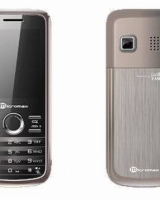 Performance
Fortunately, Micromax X360's MP3 player supports the standard audio formats like MP3, MIDI and WAV files. Its flight mode will let users to access the audio player without emitting RF signals. The handset with its standard Li-Ion battery wishfully delivers a convincing talk time of about 5 hours. On the standby mode, its battery could stay live for about 168 hours. With basic connectivity features and GPRS functionality, transfer of data packets is quite convincing. To mention, the device is pre-loaded with cool MTV contents like videos, sound tracks and wallpapers.
Features
X360's dual-SIM functionality captures instant attraction, right at the moment when one glimpses this handset's specification list. Designed to work with GSM networks on the 2G technology, a 2-inch TFT screen forms the display unit. With a resolution of 240 x 320 pixels, this screen could vivaciously display 256K colors. Equipped with an accelerometer, X360 lacks most of the contemporary features like EDGE, WLAN, video recording, GPS, etc. On the fortunate side, the handset includes GPRS and basic games for entertainment. Sophisticated browsing is limited, yet basic facilities like email and search are accessible through its WAP 2.0 enabled HTML browser.
Regarding the multimedia options, Micromax X360 possesses a stereo FM radio and MP3 player as well. The presence of Yamaha's in-built speaker is quite laudable. On the imaging experience, one could never miss to capture beautiful moments with this handset's 1.3 MP primary camera. Technically, the highest resolution showcased is 1280 x 1024 pixels. However, this basic camera lacks flash, motion recording facility and other sophisticated features. Inclusion of the standard 3.5mm audio port lets the users to connect advanced headsets at ease. Facilities like predictive text input, organizer, voice memo, SMS, MMS, etc., are customary.
The number of contacts that could be saved on this mobile phone is limited to 500 entries. Thankfully, the device supports an expandable memory of up to 8GBs of space. A standard Li-Ion battery powers up the X360 handset. Technically, this battery has a rated capacity of 800 mAh. Connectivity is never a painstaking process with this device, as it encompasses a USB port and Bluetooth facility as well. Literally, sharing data with various devices through the wired and wireless technologies is quite appreciable in this entry-level handset. The standard vibration mode and polyphonic ringtones could be set as the mobile's alert options.
Design
Belonging to the candy bar form-factor, Micromax X360 features a handy design that could be held comfortably in our palms. The handset's tapered corners with a metallic touch creates an appealing look. On the front face, the 2 inches display screen covers the top half of the phone. A conventional alphanumeric keypad along with a circular D-pad forms the input source. On the rear panel, the handset's 1.3MP primary camera could be identified on the top quarter, while the inbuilt loudspeaker sits adjacent to it. The laudable design factor about its rear panel is its partition, which separates the camera and loudspeaker together from the removable battery cover. Literally, users won't be disturbing these parts while opening and closing the battery compartment frequently. The device is available in two basic colors – black and brown.
Bottomline
Micromax X360 is a fierce contender among the entry-level handsets in India. Its dual-SIM compatibility allows users to manage a well established personal and professional networks in the real world. If you are just expecting an amiable communication facility with basic features, Micromax X360 is a good bargain for its price. For contemporary buyers, there are better handsets available, especially in the recent trends.