Mobile phones have become an extremely essential gadget in modern day's life to communicate with people. Some people are partial to the mobiles but often they have to compromise with the budget. As a result, they cannot buy according to their demands. Manufacturer companies are going and trying to put maximum features with in affordable prices to compete in the market. Micromax x265 is one of the latest models launched by the Micromax Company. The Micromax x265 is a dual-SIM, candy-bar phone. It is very light weighing only 85 grams and easily portable. This phone includes Yamaha speakers and magnifying antenna which are really impressive. Other features like a standard 3.5mm jack and USB ports are positioned at the bottom of the phone. Web browsing facility is good and you can spend a whole day connecting with your friends in social networking sites through opera mini. It has unique folder security option and supports expandable memory of 8 GB.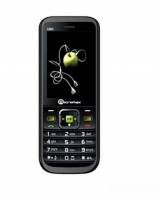 Performance
The overall performance of the Micromax x265 is quite satisfactory. It has pretty good outing in the signal response and call clearness experiment. There is no conspicuous loss of voice clarity during the phone calls. Earpiece volume, loudspeaker, hands free clarity and integrated speaker volume are moderately good. It has decent camera and video playback with mediocre audio and photo color tests. The Micromax x265 is too good for web browsing. You can enjoy net through in-built opera mini and transfer files wirelessly through Bluetooth connection
Features
The Micromax x265 packs with a telescopic fascinating look. The battery-cover sticks on the back side of the phone and can be dragged off in the direction of the arrow. There are two GSM SIM-card slots and a micro SD slot underneath the battery. The Micromax X265 is driven by a Li-ion 1200 mAh battery. This battery provides you an extended talk time of up to 6 hours and a standby time of up to 312 hours when battery is charged. It supports an internal memory of maximum 2 GB including micro SD cards. Micromax x265 is integrated with a good quality camera and supports an expandable memory of maximum 8 GB. This Micromax phone has an efficient audio player. It can stock and play music in mp3, mp4 audio formats. The video quality of this phone is good. You can tune into choice able radio stations and enjoy nonstop music through the in-built FM radio. The integrated Yamaha audio amplifiers offer an impressive audio clarity through loudspeakers. You also enjoy music by plugging the headphones to the 3.5mm audio jack. Other features like GPRS and Bluetooth connection are really good. You can easily access the net through opera mini browser. There is a dual LED torch which provides sufficient light in the dark. You can set password on your personal folders and secure the data you need to. Texting feature is decent in the Micromax x265. It supports polyphonic MP3 ringtones with vibration.
Design
The Micromax X265 is a precisely manufactured handset. It can make your communication very fast and stylish. It is designed with an alphanumeric keypad. It is spacious and convenient for messaging. A 2.2-inch QCIF screen display is moderately good with a resolution of 176 x 220 pixels. This mobile phone is light weighing only 95 gram. Therefore, it is easily portable and handy to use. It is 50 x 113.7 x 14.7 mm in dimension and practically invisible in pockets. It is usually built with green in black color.
Bottomline
The Micromax x265 (QUBE) is a worth paying phone. Micromax has included some good features like integrated Yamaha audio speakers, LED torch, 0.3 MP digital camera and Bluetooth. You can enjoy net through the in-built opera mini. The best part is that it is very cheap and affordable. It is feather weight and as a result you can carry it with ease. If you are looking for a dual SIM phone with some necessary features, you can go for it without thinking twice.