Micromax X263 is an entry-level mobile phone that belongs to the candy bar form factor with laudable features and are available at a cheaper price. Touched with metallic finish, X263 bears an appealing design. To be literal, the device exceptionally suits the basic needs of mobile users. Unleashed by the Gurgaon based manufacturer, Micromax has soared to new heights with their advent of user-friendly and customer-oriented mobile phones. If one expects nothing more than effortless communications, this device is one of the best handsets available in the recent trends. In fact, many buyers use this device as a backup device, owing to its long-lasting battery life along with overwhelming performance attributes.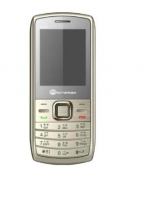 Performance
Though X263 is equipped with less sophisticated features, the handset performs significantly better than many of the high-end freakish mobile phones. To be precise, its Li-Ion battery performance is the highlight. With a rated capacity of just 1800 mAh, this device lasts for about 240 hours on the standby mode and bears a talk period of about 15 hours. Audio and video playback are quite convincing as far as reliability is concerned. However, never expect a theatrical experience with this handset.
Features
On the first glance, Micromax X263 attracts instantly with its solid and sturdy design. The handset features a 2 inches QCIF screen with a resolution size of 176 x 220 pixels. The most overwhelming part of this device is its dual-SIM capability that allow users to maintain a well-established network with their professional and personal contacts. Unfortunately, the device is compatible with GSM networks only. To everybody's surprise, this handset entitles a 1.3MP primary camera, but with less sophisticated options. Still, it could record motion images niggardly.
Designed to work on the 2G networks, Micromax X263 supports GPRS, thereby allows basic internet browsing facilities such as e-mail, MMS, text searches, etc., through its WAP enabled browser. On the multimedia side, an appreciable music player and a video player are included as well. Fortunately, this device supports the most common file formats like MP3 and MIDI on the audio files, while its clubbable video player supports MP4, 3GP, AVI and FLV files. The presence of a standard 3.5 mm audio port is highly convincing to enjoy an amiable musical experience. In addition, the handset includes an effective loudspeaker as well. Not to be left, the device supports FM radio with recording options too.
Micromax X263 could save 500 text messages and 500 phone-book contacts, which is quite sufficient for any normal user. Fortunately, this device possesses an expandable memory capacity of up to 8GB, that wishfully helps to store hundreds of songs and video files. A standard Lithium-Ion battery powers up this handset. With a rated capacity of 1800 mAh, X263 could literally last for several days and deliver a mind-blowing performance, even when the dual networks are active. Connectivity features like Bluetooth and USB port consigns effortless transfer of data packets with several other devices and personal computers.
Design
Micromax X263 is meticulously designed to satisfy various buyers and their needs through its handy and ergonomic design. Measuring 47.8 x 109 x 14.6 mm in dimensions, this device approximately weighs 138 grams, which isn't quite heavy. The 2 inches display screen takes half the space on the front face, while the alphanumeric keypad seamlessly blends with the handset below the display. Thanks to the integrated keypad, along with call handling functions and a comfortable D-Pad, as fingers could navigate over the buttons at ease. The basic camera and loudspeaker could be identified on the rear panel. To everybody's surprise, this handset features two micro-SD slots which is quite substantial for managing files. In addition, the device includes a LED torchlight as well, that helps to safely move in the dark.