So, tell us – what would you swap or switch around for a spiffed up device that swaggers for merging good functionality with a universal remote control? Well if not mistaken, you will somewhere be girding up to fork out heavy for any such amalgamation. And, probably that's what makes the silken Micromax X235 mobile phone stand distinguished from the lingering ones.
Dressed pretty aesthetically, the advanced model integrates some really interesting multimedia functions and your much-needed dual SIM capability. Although stacking up X235 against the other high-end won't really make sense, but the decent-looking handset can still give many a run for their money. If you ask us to provide a terse overview – a beautiful amalgamation of impressive performance, fun element, great money value, and something 'unique' strung along is what we will happily introduce the stylish Micromax X235 with.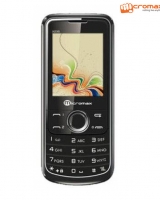 Performance
To talk about the performance level, X235 does a well-mannered job. Whether you want to engage in conversations with loved ones, listen to music for killing your time, or simply play games for fun, the mobile phone leaves users with a sense of satisfaction. However, the embedded features can nowhere be placed next to other handsets (for the obvious reasons, you would know). But, we just feel Micromax could have tweaked in a couple of more interesting attributes inside.
Nevertheless, some of you may appreciate the strong 1050mAh battery life which comes up to 5 hours of talk-time and up to 10 days of standby time. Available in black, the device also gains some points for its amazingly implanted Remote Control characteristic – which not only enables users to control their other units, but also offers enhanced convenience.
Features
Hold on, there's nothing extraordinary that has been infused inside the trimmed chassis, but decent features are something you can undoubtedly look forward to. The handset comes equipped with a compact 2.0 inches display with support for 65K Color QCIF, allowing you to indulge in a comfortable viewing experience. While Micromax could have stretched out the dimensions a bit more, the screen however still manages clear visibility and sharp graphics. As aforementioned, there's dual SIM functionality which should again provide you with enhanced convenience. So if you want to dedicate your one contact to your professional facet and other one to your personal life, you can easily toggle between the two. Since 'comfort' is something that Micromax majorly focuses on, the phone very well takes care of almost all your needs. For your photography purpose, you will find a 0.3 megapixel CMOS camera with digital zoom and video player.
At the same time, there's embedded support for WAP Browser and games as well. But unfortunately, you will have to deal with no 'Java' and no 'EDGE' in your device. What's more, the X235 also features GPRS, Bluetooth, USB port, support for various music formats, and FM radio.
But, nowhere should it be forgotten that Micromax fills the bill by having incorporated the unique Remote Control function in its X235. So, what exactly do we do with it? Well, the said feature will simply enable you to use your X235 as an efficient remote control to operate your DVD, television, or AC.
Design
In terms of design, the dual SIM phone from Micromax is pretty basic with no frills attached. So, if you are someone who values 'inner beauty' more than the outer appearance, X235 will intrigue you without a doubt. But for style conscious users, the unit somewhere crawls way too slowly. Nevertheless, the device is quite lightweight at just 85 grams and doesn't arch much with its sleek dimensions that wrap up around 111mm x 47mm x 14mm. Enclosed in a bar form factor, Micromax X235 beautifully combines comfort with the style factor. Although not overly trendy, the neat edges and smooth curves catch attention for sure. What may just serve as a topping on the cherry is a nattily placed 5-way navigational key which makes it even simpler to scroll up and down, and left and right.
Bottomline
To call upon our final cards, Micromax X235 makes a great pick for all those who seek good performance at a low price. Although you can throw in some more money and get an advanced one, the mobile phone still pulls off well in leaving most of us impressed. But, kindly don't expect the phone to be exceedingly ahead of its time or to serve you with an extraordinary experience. A decent interaction is something you should have in your mind before latching onto this one.
Priced around Rs. 4,000, X235 from Micromax however is undoubtedly seasonable for pocket-conscious users who prefer leading a simple lifestyle with essentials very much intact.