Just a few years back, QWERTY keypads were available in high end phones. But now the game has changed and there are a lot of affordable options too for the QWERTY keypad. Micromax has made some affordable yet good QWERTY phones. Micromax Q5fb, also known as Facebook phone, is also a part of the QWERTY league. The phone has a dual SIM standby, a 2 megapixel camera, QWERTY keypad and GPRS. The memory can be expanded up to 8 GB.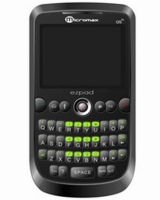 Performance
The phone has an internal memory of only 15 MB internal memory, it can be expanded up to 8 GN max. The audio playback is loud and clear through the speakers. Yamaha Amplifiers are doing their job here. The 2.0 megapixel camera can be used to click or record videos. The camera quality cannot be considered as satisfactory. Pictures appear with bad exposure even with using best of the modes. Though, you can manipulate a few things like the white balance. FM radio has a very good receiver, hence delivers clear distortion free sound. Recording from the radio is another handy feature.
Features
This dual SIM, candybar phone comes with audio video player and a FM radio too. The phone delivers good sound quality. For Internet, you have GPRS with EDGE and WAP. You will find Opera mini browser and Facebook app to use internet. The phone also provides a decent 5 hours talk time and 180 hours of standby. The phone has a 2 megapixel camera too. Memory expansion slot can be used to expand memory up to 8 GB by using microSD card.
Design
The phone has a very similar design the original Micromax Q5. Under the 2.2 inch screen you will see equally spaced keys on the QWERTY pad. The headphone jack like the most devices is on the top. In has a trackball for navigation, it is easy to use but wears out after a few months of usage. Typing messages on the QWERTY pad is very easy and fast. Microphone is situated just between the end of QWERTY pad and the micro USB slot. The middle placement ensures that the mic is not interrupted while handling the phone. The camera and volume is controlled through QWERTY pad which look a bit odd.
Bottomline
The phone comes with a very affordable price tag and yet rich with features. It has a good build quality, good keyboard and good internet connectivity. One of the biggest advantage of the phone is integrated Yamaha Amplifiers, which deliver unmatched sound. You can't use internet and listen to music at the same time. So if you are looking for an entry level QWERTY phone with some media then go for it. If you can increase you budget by Rs. 2000, you can get LG GW300 which is better in many ways.