Micromax Q3 Plus Ezpad, a successor to the popular Micromax Q3, is a stylish basic handset from the Indian mobile maker. The gadget features a full QWERTY keypad and a cool trackball for navigation. The new version of the phone makes little difference from its predecessor; yet, it is a nice handset with several features. Dual SIM support, a cute CandyBar design, GPRS connectivity and Instant Messaging are a few of the prominent features of the Micromax phone. To stay connected with friends through multiple options, the Micromax Q3+ is a great pick. The best part with the phone is that it won't make a big dent in your pocket thanks to a small price tag.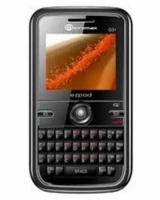 Performance
The Micromax Q3 Plus touts better processor performance. It also has neat and faster internet connectivity. GPRS, data cable, WAP and Bluetooth perform quite well. Fine, you can enjoy faster web browsing and downloading on the handset from Micromax. The phone comes with only 10MB of internal memory; but, it shows off Dual Memory card slots to expand the storage up to 2GB using T-Flash cards. The standard Li-Ion 1000 mAh battery can run the phone 4 hours (talk time) and 160 hours on standby.
Features
The Micromax Q3 Plus sports a small 2.2-inch TFT display with 256K color support and 176 x 220 pixels at 128ppi. The cool screen is capable enough to help you surf the web, check e-mails and make instant messaging quickly. A full QWERTY keypad is yet another advantage of the Micromax handset. Users can type texts for SMS and IM quite easily on the device. It won't take much more time to form texts on this low-cost basic handset.
Of course, it is a GPRS-enabled handset. The device features Class 10 (4+1/3+2 slots) at 32-48 kbps for GPRS connectivity. Using its pre-installed WAP 2.0/xHTML web browser, you can access the web, check mails and make instant messaging with friends. Various IM clients such as Skype, G-Talk, Yahoo Messenger, MSN Live Messengers and Nimbuzz come pre-installed with the Micromax Q3 Plus. To send texts, you have SMS and MMS. It also has Bluetooth connectivity.
The gadget also highlights robust multimedia features. The Q3 Plus comes with Music Player and Stereo FM with recording capability. Audio formats such as MP3, MIDI, WAV and AMR will run on the device. There are also many pre-installed games, which users can play in their leisure hours. When it comes to camera, the Micromax Q3 Plus touts a 1.3-megapixel rear camera with 1280 x 1024 pixels and video recording.
Design
Well, the Micromax handset is a cute phone with a CandyBar design. It has a 4-row QWERTY physical keypad and a small screen, which add into the elegance of the gadget. But, like almost all feature phones, the Q3 Plus is thick in size with a 13mm body. The gadget measures in at 111.2 x 61.2mm and weighs at 97 grams. The only major difference the Q3 Plus makes from its predecessor is the trackball, which makes navigation easier on the device.
Bottomline
In brief, the Micromax Q3 Plus is a cool basic handset. You have all basic features like network connectivity, social media, Instant Messaging, camera, better battery, dual SIM and QWERTY keypad on the handset. Most of the features are meant for average users, who want a rich handset for a small price. Micromax sells the candybar-styled handset for a price of Rs. 2,750, which is reasonable, indeed. Well, it will be a nice solution for all your basic handset needs. The trackball of the renewed Q3 Plus adds much into the device's credence over its predecessor. It makes things quite easier for users to navigate through menus, apps and images.