This stylish dual SIM phone with a powerful battery will be a hit in the market and its low price will lure a lot of buyers. The light and compact handset is great to look at and comes in muted hues of black and white. All connectivity features on the mobile work well and there are multiple options to keep in touch with contacts. Media add-ons like music player, radio, video player, games and camera have all been slotted in at a reasonable price.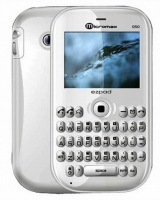 Performance
The dual SIM handset has a well capacitated Li-ion 1000mAh battery. It will not run dry for a whole 3 hours while you are wired and for 8 days on standby. The multimedia features like games, music, videos and Facebook are engrossing. Google results are obtained real quick thanks to the opera mini browser fitted in. The screen has a 262K display. It allows you to pile up about 100 SMS's and 1000 contacts. The phone can also hold up to a 16GB MicroSD card. The integrated motor sensor is definitely a good addition. The voice quality of calls is quite clear. The keys on the trackpad are spacious and the inclusion of the sensor is absolutely awesome.
Features
This handset will come handy if you stay hooked to audios and videos or chat with friends often. You will enjoy watching videos on the TFT QVGA screen. Music lovers will really like all the hi tech audio features slotted in. The stereo FM radio comes with a recording option and tunes reverberate powerfully from the built-in Yamaha audio amplifier. Micromax Q50 can also play music files of AMR, MIDI, WAV and MP3 format. The digital zoom of the 2 megapixel camera is quite cool. Get in touch with friends on social networks like Snaptu, Opera Mini, Nimbuzz and Facebook. All connectivity features slotted in like GPRS, WAP, Bluetooth work steadfast.
Design
The stylish phone with an extensive trunk is quite masculine and available in neutral shades of white and black. On the top is a 5.6 cm screen and below a QWERTY keypad along with a trackpad have been embedded. With a mass of 96 grams, Micromax q50 measures 114, 60 and 10.4 mm on each side. Carrying around the slim and lightweight phone is very convenient. It will easily slip into a pocket or wallet. The plastic chassis is shiny but can get scratched easily.
Bottomline
A QWERTY device at a marked down price is a good addition in the mobile phone market. Also, it is a dual SIM phone available at a reasonable price. Additionally, its connectivity and entertainment features are first rate. It's good to look at and easy to carry around. The internal memory space is middling but can be extended with a memory card. Surely, Micromax q50 will find a lot of takers as it offers a lot of nifty features at an affordable price.