Micromax is a well-known handset manufacturer in India. The company generates innovative technologies at highly affordable price; this is the reason why they have revolutionized the Indian mobile market. The brand having an experience of two decades is ready with their new offering-Micromax Q2 plus, a dual SIM GSM phone that comes with great list of features. This newer version of Q2 looks impressive with its stylish design as well as features. It has QWERTY keypad, which is very easy to use and features one-touch shortcut keys as well as a 5-way navigation key. With dual SIM facility, it gives you the luxury to use two numbers at the same time. There are many other features of the phone that will be presented later in this post. Read on to know more.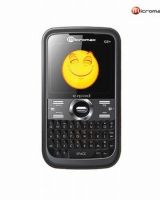 Performance
QWERTY keypad and the 5-way navigation key improve the user experience while the VGA camera works well according to its standards. While using the instant messengers, there are chances that you will miss several letters if you press the keypad softly, otherwise, it works fine. Call quality and voice reception is clear. Output from the loudspeaker is fine, but only up to limited volumes, after that the distortion starts.
Features
The phone comes with a TFT display of 5.58 cm that show 262 K colors and VGA camera with video recording facility. It has Bluetooth, music player, video player and FM radio. The music player supports all the major file formats including MP3, AMR, MIDI and WAV. Apart from Bluetooth, it has other connectivity features like WAP and GPRS. It comes with a 1000mAh battery that gives a talk time of 4 hours and a stand by time of 160 hours. You can expand its memory up to 8 GB using micro HD cards.
It has basic messaging features including SMS and MMS. For instant messaging, MSN and Yahoo messenger comes preloaded in Q2 plus. The phone operates at frequencies of GSM 900 / 1800 Mhz | GSM 900 / 1800 Mhz.
Design
Q2 plus is a bar phone with dimensions of 111.2MM x 61.2MM x 13MM and weight of 97 grams. It is very light and does not feel solid while holding in hand, but is comfortable to use. In between the screen and keypad, you will find keys for both the SIM cards, where you can make or end calls. To insert the SIM cards or micro SD cards, you have to open the battery cover using a latch located at the bottom.
In India, the handset is available at a price tag of Rs.1, 523. There are chances that the price may vary in different cities.
Bottomline
Looking at its features, performance and design, we can say only one thing: Micromax Q2 is the best handset at this price. A stylish handset offers you a bundle of impressive features including a QWERTY keypad at a very affordable price. It also comes preloaded with couple of instant messengers. The QWERTY keypad feels hard sometimes, but what else you can expect at this price. Therefore, it is a great buy for every kind of mobile user.