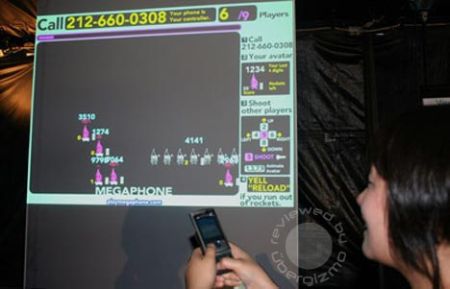 Yahoo Design Week welcomed many esteemed students from across many prestigious Universities who tried to impress the jury with their state of the art design projects and design assignments.
According to the members, the eye-catcher of the show, which will end today, was 'Jury Hahn', New York University, who seemed to impress almost every person attending the show with her mega-design project –'Megaphone project'.
This 'real-time multiplayer collaborative gaming platform' seems to be the rage for young and the trendy. In order to play this innovative game a mobile user has to just dial up the number being displayed on the screen, as soon as the number gets confirmed at the game server, his avatar gets displayed on the wide screen. Thus, the gamer is good to go! The best part is that there is no need to waste time on software downloads and initial game setups.
Many like the user interface and ergonomics of this game. I just want to play this game on that wide screen projection for that real 'space invasion' feel! Many restaurant owners, mall owners, and cinema people are looking forward to having this wide screen game projection. Certainly, it's an outstanding idea – standing in the queue would never be boring again for sure! So, what are you waiting for? Go on and visit "playmegaphone".
Via: Ubergizmo