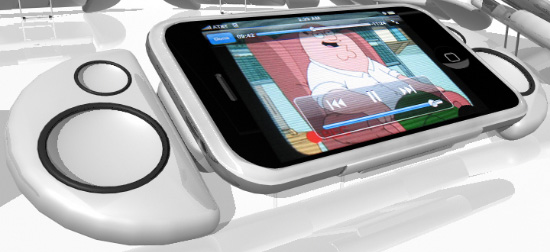 The LiveSpeakR, a new portable speaker system concept for the iPhone has been unveiled by D&G Solutions. The speaker system which is presently only in concept for the iPhone are tied-up behind the iPhone where speakers can expand, contract and rotate supporting both portrait and landscape modes. The shielded high-quality portable iPhone Speakers can even fit inside your pocket. LiveSpeakR, invented by the 23-year old Erik Groset, can run off 2 AAA batteries or an AC adapter.

Groset said,
I'm very proud of the LiveSpeakR I believe it could be a perfect accessory for everyone's iPhone. I invented it from the perspective of the end-user and everything they would want in a speaker-system.
It is anticipated that LiveSpeaR will be available in late summers as D&G Solutions is currently looking for a partner to license the product for the production.
Via: Ipodexpress