LG P520 is an entry level dual SIM phone with laudable features. The device belongs to a sleek and stylish candy bar form factor with sufficient multimedia and browsing amenities. Thought the handset was released in the last quarter of 2010, it has sophisticated features to compete with the mobiles in the current trend. Apart from its commendable design and performance, the device endows a long lasting battery as well. Its primary camera includes a handful of customizable features that could satisfy one's photography needs on the move. Uncover the features below to explore LG P520's brilliance on your own.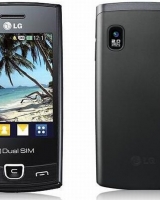 Performance
As the device is compatible with the 2G network alone, its battery offers a sufficient talktime period of 23 hours and lasts up to 454 hours on the standby mode. The presence of preinstalled browsers like Opera and WAP delivers an effortless browsing experience. The handset's connectivity features are immensely laudable. The quality of motion videos are quite disappointing when compared to the still images. Inclusion of just 2x zoom is highly unsatisfactory. However, the touchscreen is quick and responsive. The prolonged use of applications and games without any loss of performance is quite convincing and appreciable.
Features
LG P520 is fitted with 2.8 inches TFT, QVGA touchscreen, with a resolution of 240 x 320 pixels. Literally, it could display 256K shades of vivacious hues. The dual SIM operating capacity is the highlight of this handset. Unfortunately, the device is compatible only with the standard GSM set. Class 12 GPRS and EDGE facilities that are included by default, deliver an effortless browsing experience along with its WAP 2.0/xHTML and HTML browsers. However, the handset lacks WLAN feature, which is quite disappointing for the contemporary users. On the messaging side, features like SMS, MMS, email and Instant Messaging are customary. Inclusion of Bluetooth and micro USB port helps the user to share data with various devices.
LG P520 is equipped with a 2.0 MP camera that could record videos and capture images as well. Acting as the primary camera, it could capture images in the resolution of 1600 x 1200 pixels which is quite satisfactory as long as they are used digitally. Regarding the motion images, the device's camera could record QVGA videos at 15 fps. The presence of a stereo FM radio with RDS functionality and FM transmitter allows the users to enjoy public media on the go. Entertainment on a mobile phone could not be fulfilled without the presence of a MP3 player, and LG P520 offers it in a sophisticated manner. To mention, this device allows direct and quicker access to the social networking sites like Facebook Twitter, Orkut, Myspace, etc.
Though the handset's internal memory is limited to a mere 13 MB, its external memory capacity could be extended up to 4 GB. Precisely, it could store 1000 contacts and about 500 text messages. A standard Lithium-Polymer battery powers up this device that has a rating of 1500 mAh. Document viewer, organizer, predictive text input and games are also included in this pretty phone. 
Design
To get off to a brilliant start, LG P520 weighs 120 grams and measures 109.4 x 56.2 x 12.9 mm in dimensions. Its 2.4-inches touchscreen covers most of the space on the front face. The call handling buttons are gracefully designed below the touchscreen. A micro-USB port and memory card slot could be identified on the right side, while the 2.0 MP primary camera sits conveniently at the back side as in the conventional mobiles. Provision for SIM cards are designed one over the other inside the rear casing.
Bottomline
LG P520 offers a comfortable way to manage social as well as professional networks with its dual SIM functionality. Though the candy-bar device lacks high end sophistication and camera features, its convincing battery life and indomitable performance make it stand apart from the other similar devices. Quick access to social networking sites and instant messaging facilities boost the handset's value. To conclude, the device is highly worth for its price.