The Optimus Pro is a mid-level Android handset from LG Electronics. The Korean firm surfaced the device in July last year and it is now a leading mid-range Android phone in several global markets. The Optimus Pro has a 2.8-inch display and it runs Android 2.3 Gingerbread. Powered by an 800MHz processor, 256MB of RAM, 3.15-megapixel rear camera and a QWERTY keypad, the Optimus Pro will be an intelligent pick for those, who crave a handy and affordable Android phone. In Indian market, where Android handsets are just making into the fore, this LG phone is available for a price around Rs. 10,000. Read on to know more about the Optimus Pro.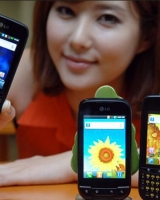 Performance
LG Optimus Pro is outfitted with better innards for smart performance. On the board, the device mounts an 800MHz Qualcomm MSM7227T CPU, 256MB of RAM, 512 MB of ROM and 150MB of memory. To expand the memory to store more data, you can depend on its microSD slot that can support memory sticks up to 32GB capacity. While purchasing an Optimus Pro, you will get 2GB microSD stick for free, however. The device performs quite well on its Li-Ion 1500 mAh standard battery, which promises up to 852 hours standby time and up to 13 hours and 30 minutes talk time. Finally, Android 2.3.3 Gingerbread is the firmware that runs the Optimus Pro. The special smartphone friendly version of Android does well on the LG phone. 
Features
What is cool with the Optimus Pro is its integration of a QWERTY keypad and a tiny touchscreen. Indeed, most of modern-day customers adore touchscreens, but there are some who need physical keypads as well. It mainly allows them to type texts, e-mail contents and social media updates quickly. LG has incorporated a QWERTY keypad with a small touchscreen on Optimus Pro. The screen is a 2.8-inch TFT capacitive display with 256K colors and 240 x 320 pixels at a nice 143 ppi. Compared to many of its rivals, the Optimus Pro's screen resolution, clarity and pixel density are remarkable.
The LG phone is also strong with all essential connectivity options. It packs in Wi-Fi, Bluetooth and a microUSB port for multiple connectivity purposes. As well, you have GPRS, EDGE, HSDPA (3.6 Mbps), Wi-Fi hotspot on the gadget that supports GSM 850/900/1800/1900 2G networks and HSDPA 900/2100 3G networks. FM Radio, A-GPS and Java MIDP emulator further enhance the Gingerbread phone. For messaging, the device highlights multiple options like SMS, MMS, email, push email, Instant Messaging.
The Optimus Pro touts a 3.15-megapixel rear camera with 2048 x 1536 pixels. Geo-tagging and VGA video capturing at 24fps are also possible on the device, which misses out a front camera for video chatting. Other notable features of the phone comprise of SNS integration, document viewer, organizer, voice memo and the support for different online services like Google Search, YouTube, G-mail and G-Talk. Accelerometer, proximity and compass sensor further smoothen the experience with the Optimus Pro.
Design
The Optimus Pro boasts a distinctive form factor. Its unique 2.8-inch portrait touchscreen simply helps users read and type up to 16 lines. It is possible only 8 to 10 lines on regular landscape touchscreen devices. The gadget also looks good with a small touchscreen and an ergonomic QWERTY keypad that features many dedicated shortcuts. The Optimus Pro is indeed not a bulky phone with the dimensions of 119.5 x 59.7 x 12.9mm. It weighs only at 129 grams, which makes it an ultra-portable and cute smartphone for the mid-range customers.
Bottomline
The Gingerbread-featured low-cost LG phone is a great pick for budget conscious customers. Except the front camera, the Optimus Pro is a perfect phone with all major features. With the notable things like a fast processor, touchscreen and QWERTY combination, long battery life and decent, the LG phone is a smart and better recommendation for average customers. LG avails the device in several global markets. In India, you can buy a unit of Optimus Pro for a price around Rs. 10,000. Nice look and smaller body make it a more enhanced Android phone.