LG Optimus NET is an affordable smartphone that comes with a number of features to revolutionize the sharing experience through a mobile phone. Packed up with a 800 MHz processor, the sleek handset runs on Android's operating system. The device entitles a customized LG social + feature that allows sharing data much easier. In addition, its Smartshare technology enhances the sharing experience, especially with the social networking sites. Its home screen features quick links to the important websites that could be accessed in a moment and with just a touch. Designed to suit different enthusiasts with a common theme, LG Optimus Net brims the sharing experience.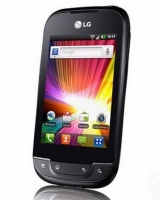 Performance
LG Optimus NET is quite responsive and rapid in the use of applications, browsing and gaming as well. Its 512 MB RAM offers exceptional support with the flow of operations and stuff. In addition, Android's Gingerbread version overwhelms the users with a wide variety of applications and features. Due to the absence of flash, its camera suffers in low lit situations. The absence of secondary camera aggravates the situation by complicating the video calling facility. Inclusion of DivX players allow users to enjoy high resolution videos at ease. Its Li-Ion battery offers a talk period of up to 9 hours. With a normal use, this battery lasts for at least 2 days.
Features
LG Optimus NET encompasses a 3.2-inches HVGA capacitive TFT touchscreen with a resolution of 320 x 480 pixels. This brightly illuminated screen could display distinct shades of 256K hues. As mentioned earlier, the device runs on Android OS, v 2.3.3 (Gingerbread), while a 800 MHz ARM 11 forms the processing unit. Literally, the handset could have access to million plus applications through the Android market. With its powerful processor, working on applications and web programs would deliver a swift experience. Advanced multi-media support, one-touch word selection, copy & paste feature, task management, etc., are the supplementary benefits. Accelerometer, proximity sensor and compass support the device with navigational aids and includes other benefits like orientation, gaming, etc. Not to be left, the device includes a GPS as well.
The sleek handset features a qwerty keypad that brings a keyboard's experience on a mobile phone. Its wireless DLNA technology allows the users to synchronize various devices and lets them share contents at ease. Inclusion of HTML browser and several messaging options like MMS, SMS, e-mail, push mail, Instant Messaging, etc., delivers an effortless browsing experience. GPRS, EDGE, Wlan and Bluetooth facilities add comfort. On the multi-media segment, LG Optimus NET boosts a 3.15 MP primary camera that could capture images of the resolution 2048 x 1536 pixels. The presence of auto-focus and geo-tagging features enhance the imaging experience. It could also record VGA videos at 24 fps, which is quite satisfactory. However, there is no secondary camera in this device. FM radio, audio and video players are customary.
A standard Lithium-Ion battery of the capacity 1500 mAh powers this device. The device includes a 512 MB RAM and ROM with an internal storage capacity of 150 MB. Its external memory capacity supports up to 32 GB.
Design
LG Optimus Net possesses a sleek and stylish design with tapered corners. Belonging to the candy bar form factor, the handset measures 113.5 x 59 x 12.1 mm. However, it weighs 129.2 grams which is quite bulky. The capacitive touchscreen covers most of the space on the front face. The standard buttons like home, previous screen, menu, etc., are present below the touchscreen. As conventional, the 3.1 MP camera is present on the rear side, but the device lacks flash and front-facing camera. Its micro USB port could be identified on the right side with a protective cap. The slot for the memory card is featured on the left face; however, it is enclosed inside the battery compartment. The volume keys are also present of the upper side of the left face. The standard 3.5 mm audio jack is present on the upper face. Curvaceous lines around the device, accentuate the handset with style and elegance.